Trade-War Detente Gives Emerging Stocks Their Best Shot at a Rally
(Bloomberg) -- Emerging-market stocks failed at least six times this year to rebound from a $5 trillion sell-off. Now they're making another attempt, with the best chance of success yet.
Fresh out of the strongest November since 2009, the MSCI Emerging Markets Index started the final month of the year on an upbeat note after the U.S. and China agreed not to escalate their trade war. If sustained until the close, Monday's gains will mark only the fifth time this year that the benchmark gauge rose more than 2 percent.
While valuations near the lowest in more than four years lured investors back to developing-nation stocks last month, December may be marked by a more fundamental shift in sentiment. A thaw in trade hostilities will help build on the momentum, potentially creating sufficient impetus to break through levels that capped earlier recoveries.
Here are four charts chronicling the latest rebound attempt:
The MSCI gauge rose 4.1 percent in November, breaking an eight-year spell of small or no gains for the month. The main lure for investors was a dip in the gauge's price-earnings ratio by October-end to the lowest level since March 2014.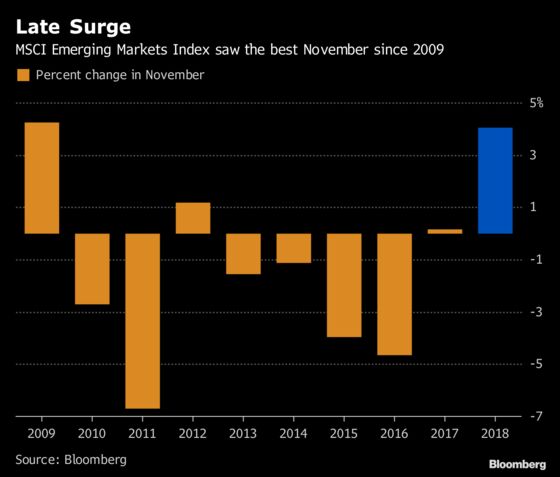 The index is down 12 percent in a year dominated by rising U.S. interest rates, trade-war concerns and idiosyncratic risks. The gauge rose more than 2 percent on only four previous occasions -- June 29, Oct. 12, Oct. 31 and Nov. 2. Monday's advance of 2.4 percent in the index shows these big jumps are becoming more frequent.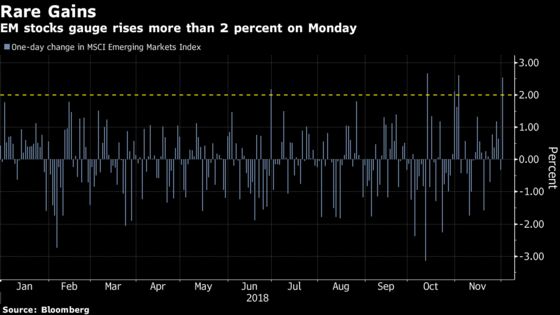 Bollinger bands, a technical study that combines volatility with rate of change to predict key turning points, shows the bullish momentum on emerging-market stocks is the strongest since July 2017. The index hovers above the upper band: short-term traders may interpret this as a signal to sell stocks before buying them back later, but for long-term investors, it often means the start of a rising trend.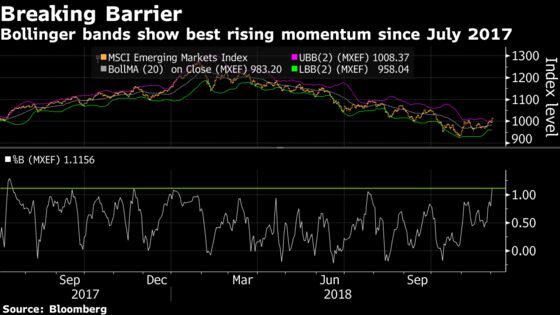 The relative strength index, whose oscillations between "oversold" and "overbought" levels signal trend extremes, supports the view that bulls are back in emerging markets. Again, short-term traders may read this as a sell signal, while long-term investors will wait to see if it acts as a confirmation of an advance. RSI can hover above "overbought" levels for a long time when a rally takes hold.