Trade Pact Gives Extra Boost to World's Best Performing Currency
(Bloomberg) -- Mexico's peso climbed after the U.S. agreed to extend a regional trade accord to include Canada -- ending two years of concern over a pact that has underpinned growth in the Latin American nation.
The peso gained 0.3 percent to 18.654 per dollar at 11:59 a.m. in New York Monday, consolidating its position as the best performer globally this year. Yet the new deal, dubbed USMCA, is unlikely to change the fundamental elements of the Nafta accord that came into effect almost quarter of a century ago.
"It's clearly a positive development," said Rabobank strategist Christian Lawrence in an interview from New York. But "we're basically where we were at to begin with. Yes there have been tweaks, etc., but the real risk was going from a trilateral agreement to no agreement."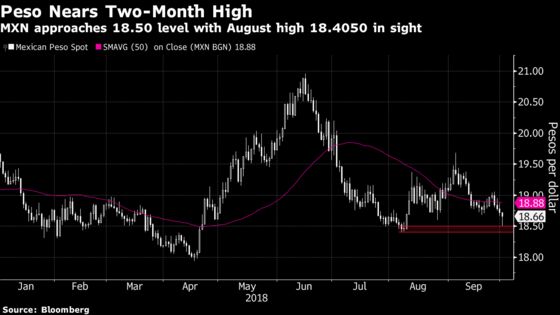 The deal's announcement capped a weekend of around the clock negotiations and is said to improve access to Canada's dairy market for U.S. farmers, strengthen intellectual property provisions and tighten rules of origin to auto production. The peso trimmed an early advance, but joined gains in the Mexbol stock index and international benchmark bonds.
Here's what else analysts and investors had to say:
"I don't think it does much. I still think 18.50-19 is the range"
"The market was still running with the base case that an agreement would be reached"
"It certainly paints a slightly more positive outlook for Canada"
Ociel Hernandez, a BBVA strategist based in Mexico City:
"Market-wise, the agreement is positive news for both the MXN and local yield curves"
"Uncertainty regarding other potential protectionist actions in the US administration will most likely remain"
"A breach of the 18.50 would open the door for a movement toward 18"
"We stand pat on our recommendation of keeping long MXN positions with a target of 18.40 and the possibility of an appreciation toward 18"
"However, we continue to expect a weaker MXN by the end of the year and into 2019, and so depending on the volatility and forward curves price action, we would recommend hedging mid-term FX risk once reaching such levels"
Jesus Lopez, a strategist at Banco Base in Monterrey:
"For now it seems that much of the uncertainty about the future of trade between Mexico and the United States will disappear"
"I still see caution among market participants who are probably waiting for more details for the USMCA"
"The question is still about the implications of the parallel letter of 'assurances' for Mexico in case the U.S. imposes tariffs on the automotive sector"
"The peso may still be affected by negative implications for global economic growth stemming from the U.S.-China trade war"
"It's likely that the peso will close the year below 18.60 per dollar
Martin Castellano, head of Latin American Research at the Institute of International Finance
"This is very good news for Mexico and it will bolster the peso over the medium term"
"It's a factor that's going to make the strength of the peso more sustainable and will provide a buffer against increased protectionism worldwide and also leaves a big source of uncertainty behind for Mexico"
"Having Canada on board provides less uncertainty related to further negotiations between Canada and the U.S. and Mexico and Canada so removing that uncertainty is a big part of the story. It also provides a more solid framework for trade and investment for Mexico overall"
"Now that the uncertainty from Nafta is behind us, we will see other factors coming into play like domestic policies by the new administration and also the fed tightening"
"When we talk about domestic policies, what will be the fiscal impact in terms of some of the AMLO proposals. Budget discussions are going to be another important factor that will have an impact on the peso"
Dirk Willer, Kenneth Lam and Andrea Kiguel at Citigroup in a note:
"MXN is cheering the conclusion of Nafta talks though out-performance will be limited as good news is mostly in the price"
"Some profit taking will eventually take place"
"There remains risks with respect to implementation as the new treaty may only get voted on the Capitol Hill in 2019; by then the U.S. Congress may not be under Republican control anymore"