Trade Fight and Tariff Threats Are Sapping Canadian Confidence
(Bloomberg) -- Canadians are feeling beaten down after months of wrangling over U.S. trade, with pessimism about the economy reaching the highest since the last recession, telephone polling shows.
Some 45.6 percent of respondents said the economy will be worse in six months, the highest month-end reading since 2009, according to the survey conducted by Nanos Research. The figure has surged from 27.8 percent in May and more than doubled this year.
Economic pessimists outnumber optimists by three to one, a stark imbalance given unemployment is near record lows and the housing market appears to be stabilizing after years of price escalation. Tit-for-tat tariffs on steel and aluminum, and U.S. President Donald Trump's threats to restrict automobile imports are casting a bigger shadow. Signs of a breakthrough on the North American Free Trade Agreement did little to dispel the gloom.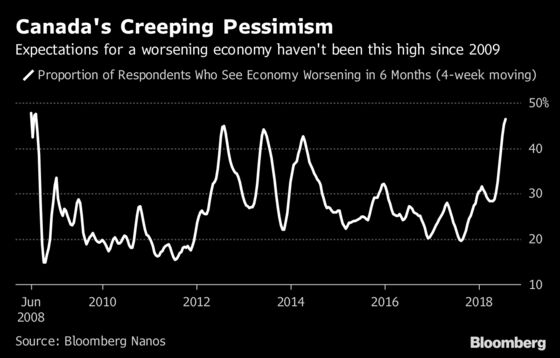 The Bloomberg Nanos headline confidence index fell to 54.7 in July from 54.9 in June, holding near a two-year low. The decline was caused by a combination of a plunge in the Expectations measure tracking the economy and real estate, and stability in the Pocketbook metric covering personal finances and job security.
The confidence index for home owners has reached a 12-month low, even with the Bank of Canada saying new regulations are working to curb excessive speculation in the Toronto and Vancouver housing markets. About 13 percent of respondents expect real estate prices to fall, the highest share this year.
The polling is based on 250 random phone interviews done each week, creating a four-week rolling average. The latest results through July 27 have a margin of error of plus or minus 3.1 percentage points, 19 times out of 20.
To be sure, there are signs Canada may emerge relatively unscathed from from the tariff fracas. The U.S. could offer Canada and Mexico a reprieve on auto tariffs now that the EU has one. And there's renewed optimism around the prospects for Nafta, with all three nations saying they could reach an agreement in principle in the next few months.
However, risks remain -- particularly if the U.S. moves forward with levies on automobiles and parts. The sector accounted for almost a fifth of Canada's bilateral trade in 2017, according to Brian DePratto, senior economist at Toronto-Dominion Bank, who estimates tariffs of 25 percent on motor vehicles and 10 percent on parts would cause a minor recession in Canada in the second half of 2019 and lead to the loss of about 160,000 jobs, mostly in Ontario.
This week may bring more clarity on how things are holding up in the economy, with Statistics Canada reporting May gross domestic product data Tuesday, which is expected to show a 0.4 percent expansion from the prior month. At the end of this week, another report is expected to show the trade deficit narrowed in June.
Here are other highlights from Bloomberg Nanos polling:
The resource-rich Prairie provinces including Alberta were the least confident, with the index falling to 45.9 from 50.9 a month ago. Quebec's reading of 60.3 was the highest while Ontario, Canada's most populous province, measured 55.9
Job security was a bright spot. Some 70.5 percent of those surveyed said their jobs were at least somewhat secure, the highest share this year
Some 18.4 percent said their personal finances improved, up slightly from a month earlier, while 26.8 percent reported feeling worse off, about unchanged from June
The Expectations Index was 48.8, down from 50.8 in June and compared with the average this year of 54.6. The Pocketbook Index held at 60.7, up from 59.7 last month and almost matching the average over the last year