Trade-Deal Boom Seen for U.S. Sorghum With Sales at 5-Year High
American sorghum sales soared to a five-year high as the grain proves to be one of the few big crop winners seeing a significant demand boost from the newly-enacted U.S.-China trade pact.
Net export sales climbed to 444,500 metric tons in the week ended Feb. 20, government data show. It's the first week of reporting since the phase-one deal between Washington and Beijing went into force. The figure was the highest since December 2014 -- led by purchases by so-called "unknown destinations," and China accounted for 119,000 tons.
The sorghum sales signal that China will buy U.S. agricultural products when it makes economic sense after agreeing to billions more in purchases as part of the deal. American supply is much cheaper than rival Australia and exporters were said to have sold at least four sorghum cargoes to China earlier this month, with the nation in the market again this week.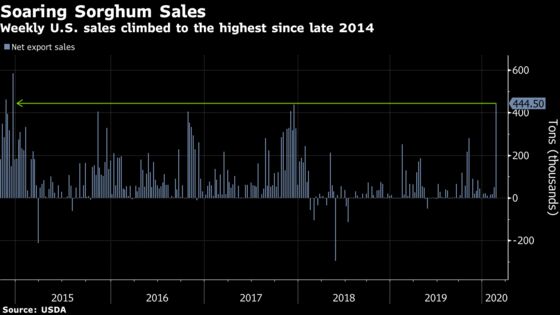 It also shows the nation is continuing to buy some crops amid the ongoing coronavirus outbreak, though its purchases pledged under the trade deal are widely expected to be delayed by the epidemic.
"They will buy from the cheapest place -- they will not pay a premium if they can source it cheaper elsewhere," said Joe Davis, a director at brokerage Futures International in Chicago. "But we are still early in the deal and China business has been basically paralyzed because of the coronavirus. We should start to see it increase in the coming weeks."
The sorghum boom stands in contrast to other key agricultural commodities. Weekly soybean sales to China stood at just 71,700 tons, with most of that coming from a switch to sales previously reported as being to unknown destinations. The change comes as ports in Brazil faced congestion due to rains and a delayed harvest, forcing China to pick up some cargoes in the Pacific Northwest.
Brazilian soybean supplies are also cheaper, with the real falling to a record low against the dollar. China made no purchases of other grains.
Soybean, corn and wheat prices fell in Chicago on Thursday.
Pork purchases of 7,200 tons also remain well below levels seen in late 2019. Thousands of containers of meat have been piling up at Chinese ports as the coronavirus outbreak disrupts transportation and spurs labor shortages.
"Brazil's soybeans, the most economic, are all the reason the Chinese aren't buying here," said Bevan Everett, a risk management consultant and grains market analyst at INTL FCStone. "It was wishful thinking China would purchase corn and wheat in any great measure. They have an abundance of corn and wheat despite the quality concerns."