Toronto Home Sales Slow for Second Month Under Lockdown
(Bloomberg) -- Toronto's housing market recorded its second consecutive month of slowing sales in May, as reduced supply and a lingering lockdown to contain the coronavirus helped to cool off the market.
The number of homes that traded hands in Canada's largest city fell 8.9% in May from the month before, according to data released Thursday from the Toronto Regional Real Estate Board. The seasonally-adjusted average selling price for a home in the Toronto region still rose 1.1% from April, to C$1,061,987 ($882,300).
"While sales have trended off the March 2021 peak, so too have new listings," Jason Mercer, the real estate board's chief market analyst, said in a statement. "People actively looking to purchase a home continue to face a lot of competition from other buyers, which results in very strong upward pressure on selling prices."
Prices were up 19% compared with May 2020, using a composite index that adjusts for the mix of homes being sold. The nearly 12,000 home sales posted was below both the all-time record 15,600 sales in March, and the almost 13,000 in May 2016, which remains the most ever for that month.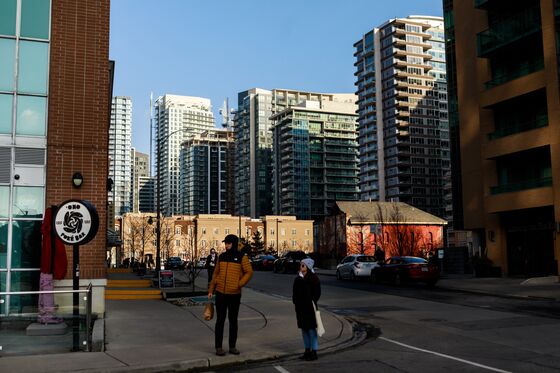 With the price of a home in Toronto still near record levels, buyers and sellers both seem to be taking a pause. For most of April and May, the city endured some of the strictest lockdown measures of the pandemic to combat a surge of infections. Vancouver, however, where infections are less widespread and lockdown rules less severe, also saw a slowdown in home sales last month. Canada's immigration-driven population growth has been choked off with international travel restricted.
"In the absence of a normal pace of population growth, we saw a pullback in sales over the past two months relative to the March peak," Lisa Patel, president of the Toronto real estate board, said in a statement.
Sales in both Vancouver and Toronto remain above their longer-term averages. Still, Canada's housing market may face another headwind as the government imposes stricter mortgage stress tests to make sure borrowers can afford their loans if the low interest rates that have fueled the past year's boom start to rise. Borrowers now must show they can carry an effective interest rate of 5.25%, up from 4.79% earlier, reducing the size of the mortgages households can take by about 4%.
The Toronto market remains tough for buyers, Mercer said.
"If we had seen sales dip and listings remain at their March levels, then that would've offered a bit of relief for homebuyers," he said in an interview on BNN Bloomberg Television. "But because sales and listings have both moved in the same direction, those people that are still active in the market are still experiencing very tight market conditions."