Top Earners Feel the Covid Budget Squeeze Too, Census Poll Shows
(Bloomberg) -- Plenty of high-income Americans say they're having trouble paying the bills during the pandemic, according to new data from the Census Bureau. 
Among households earning at least $150,000 a year -- enough to put them in or near the top 10% of the income distribution -- some 4.7% of respondents in the Bureau's latest survey said they're finding it somewhat or very difficult to meet their usual household expenses. That's equivalent to about 1.3 million adults. 
The figure rises to almost 9% in Philadelphia, and generally appears higher in northeastern U.S. cities compared with metro areas in the rest of the country.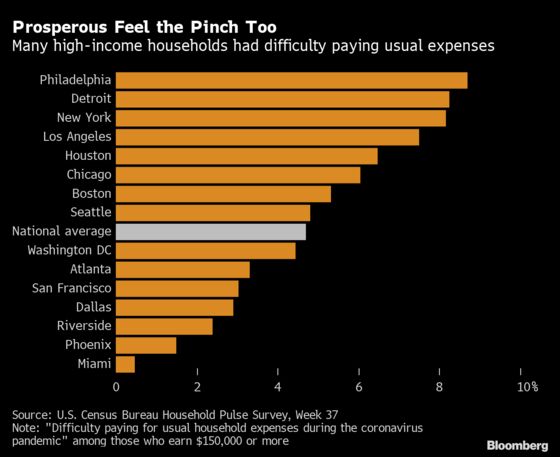 The data published Wednesday in the Household Pulse survey -- which has been tracking the pandemic's impact on people's lives since April last year -- was collected in the first two weeks of September.