Too Much Cash Forces Taiwan's Insurers Back to Home Market
(Bloomberg) -- For the first time in years, Taiwan's insurers are snapping up local Treasury bills, a sign of desperation as they grapple with what to do with a wave of cash from the redemption of foreign investments.
At least $17.4 billion from Formosa bonds -- securities listed in Taiwan but denominated mainly in dollars -- were called or will be repaid early in the six months through March 2020, according to data compiled by Bloomberg based on issuers' announcements. Buying fresh Formosa bonds, or other investments linked to overseas assets, has become harder thanks to moves by Taiwanese regulators to limit insurers' foreign-currency exposure.
That explains why institutional investors that usually prefer long-dated assets to match their liabilities popped up at recent auctions of 273-day and even 182-day bills issued by Taiwan's Finance Ministry. Insurers took up 10% of the nine-month bill and almost 9% of the six-month one, in their first such bill purchases since 2016.
"It's surprising that they bought the Treasury bills, as they usually invest in longer-term bonds," said Aaron Shie, a trader at Concord Securities in Taipei. The flatness of the yield curve might help explain the move, Shie said.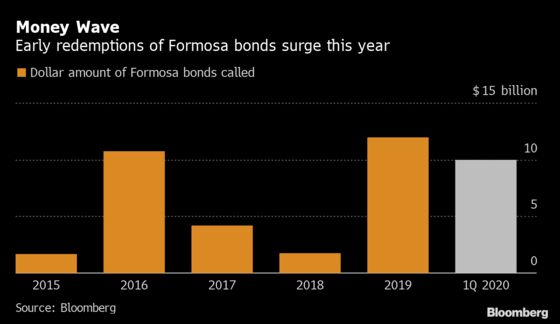 Interest rates on the bills sold earlier this month were each about 0.48%, not terribly far from the 0.795% yield on 20-year bonds sold at an auction on Tuesday. Insurers lapped up 41% of the longer-tenor bonds, even with their record-low rate.
The yield on Taiwan's 10-year government bonds fell to 0.6226% Thursday, the lowest-ever closing level.
The bills at least offer the option of a fresh investment at maturity later this year, and the potential for higher returns should yields climb as the global economy pulls out of its current slowdown.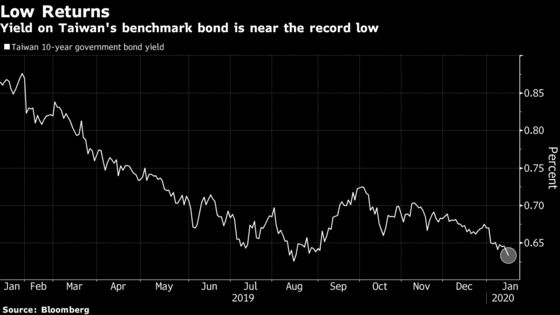 The flip side is that sustained demand from the insurers may keep a lid on fixed-income returns, as Formosa bonds face early maturities. Almost all buyers of Formosa bonds are insurers. Issuers of the callable securities have lately been retiring them when able, taking advantage of lower interest rates.
The majority of the $186 billion in outstanding Formosa bonds are callable, with around $23 billion estimated to be redeemed early in the first quarter, Lawrence Lai, Standard Chartered Bank strategist in Singapore, wrote in a note earlier this month.
Given prospects for strong demand, Taiwan's 10-year government bond yield is seen sinking to a record low of 0.6% by April, according to a Bloomberg survey published last month. It closed lower at 0.63% Wednesday, reaching a five-month low a day after another strong debt sale.
With regulators' worries over foreign-currency exposure, the recent auction patterns may be around for a while.
"Overseas investment may grow slowly" due to regulatory limits, a Fubon Life Insurance Co. representative said in a written response to questions. "Given that spare cash at hand is pretty big," insurers have been looking at longer-term bonds along with bond exchange-traded funds, stocks, property and short-term assets from T-bills to bank-deposits and commercial paper, according to Fubon.