America's Jersey-Sized Parking Opportunity
(Bloomberg Opinion) -- There are nearly 270 million vehicles on America's roads. Most of them are cars or smaller trucks. And most of them, of course, are usually doing nothing: parked at home, curbside, or in dedicated city and suburban lots. Demand for parking has shaped our cities, and we have shaped our behaviors to the landscapes parking has created.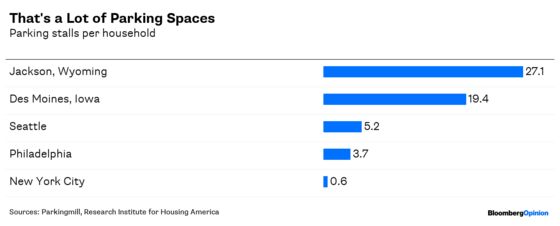 Looking at the data, it's hard to argue that Jackson, Wyoming, has anything but an astonishing amount of parking. Even New York City, the only city in the study that averages less than one parking stall per household, might still have more parking than demand would naturally call for, thanks to rules requiring minimum off-street parking.
So if there's too much parking, what's to be done with those spaces? Ratios — such as stalls per household or minimum required spots per building — make it hard to focus on the opportunity the spaces present. Fortunately, there's data to help us.
In an essay in the recently published "Parking and the City," researchers Emma Kirkpatrick, Amélie Davis and Bryan Pijanowski quantified the amount of urban parking in Illinois, Indiana, Michigan and Wisconsin. They state that
Our study found that approximately 5 percent of the urban area in the Upper Great Lakes region was devoted to paved lots. … We estimated that 0.24 percent of the land in those four states was used for paved parking lots. If this were scaled up to the entire conterminous U.S., the paved area (just for parking) would cover 7,092 square miles, nearly the entire state of New Jersey.
What could this country do with another New Jersey of urban real estate? More buildings for sure, and probably with less and less parking allocated to them as time goes on — but what type of buildings? I imagine it won't just be offices and housing. That New Jersey's worth of urban real estate could, in fact, be an analog for the real New Jersey, with its advanced distributed manufacturing close to transportation networks and high-tech farming. They might have paved paradise to put up a parking lot, but whatever comes after parking can hopefully bring a bit of paradise back.
Uber just completed 10 billion trips, a year after passing 5 billion.

At their current rate of growth, U.S. transportation network companies and taxis will

carry more passengers than buses

do

by the end of 2018.

Will ride-hailing players Uber and Lyft be more like

Netflix or Blockbuster

?

Lime's

One Year Report

, with details on its 6 million dockless-vehicle rides.

Bicycle and scooter services are booming,

but in different ways

— scooters have near gender parity in adoption rates and higher lower-income adoption rates.

A clear-eyed and somewhat depressing look at the

New York City transit system's declining ridership

as ride-hailing services surge.

New York City is considering

limiting the number of ride-hail vehicles

, which now exceed 100,000.

A Union of Concerned Scientists study finds that battery electric buses in California "had

70 percent lower global warming emissions

than diesel or natural gas buses."

Sergio Marchionne, who turned around Fiat Chrysler with his "

direct manner and frumpy demeanor

,

" has died. He was 66.

Norwegians

quietly revolt

against Tesla.

SpaceX's

secret weapon

is Gwynne Shotwell.

Housing is

eating the world

.

For Japan Inc., "

peak robot

" is far from automatic.

An analysis of a proposed freeze to U.S. federal fuel economy standards finds that it

could cost consumers $450 billion

in fuel through 2050.

About

half of Google's workforce

is made up of contractors.

An essay on technological progress and de-industrialization says that for

a return to growth

, we must also return to optimism.
This column does not necessarily reflect the opinion of the editorial board or Bloomberg LP and its owners.
Nathaniel Bullard is an energy analyst, covering technology and business model innovation and system-wide resource transitions.