Tom Hayes Says Libor Should Stay, Convicts Are Crazy for Crypto
(Bloomberg) -- Tom Hayes, the former trader convicted in the Libor-rigging scandal, said efforts to replace the benchmark were pointless and that the rate was far safer now.
Speaking days after he was freed from prison after serving half of his 11-year sentence, Hayes said there is no need for the cost and hassle of replacing London interbank offered rate, a move that was prompted by the international investigations that led to his conviction.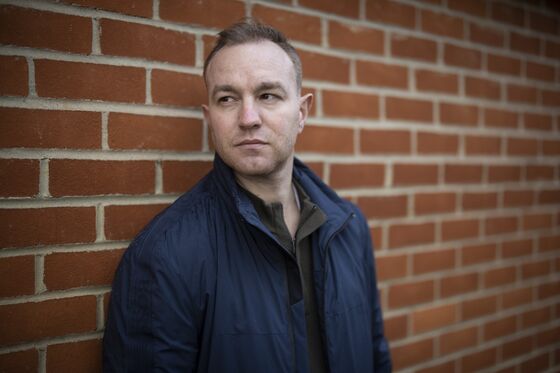 "I think right now Libor is really robust and they shouldn't even bother changing it," the ex-UBS Group AG and Citigroup Inc. trader said in an interview. "All they've done is put it behind a firewall and removed all the commercial influence. So why do you even bother replacing it with secured overnight funding rates, stuff like that -- just seems to me a lot of work when you've got it fixed."
The 41-year-old former yen rates trader, said that bankers would always look for "an edge" and that whatever steps were taken to clamp down on bad behavior, someone would always find a way to beat the system.
"Obviously, traders are traders, they're employed to make money," he said. "If people think they can get a little bit of edge, they will."
"For time immemorial, there's no way that will ever stop, and you're never going to stop it, ever," he continued. "There's no point talking to people about being a good citizen, this that and the other, because financial institutions employ them to make money."
The rigging of Libor and another rate, Euribor, by traders seeking to bolster their positions were among the most high-profile crimes prosecuted in the wake of the 2008 financial crisis. By 2017, a dozen banks had paid penalties approaching $10 billion for rigging the benchmarks, which are tied to trillions of dollars worth of loans and derivatives.
A deadline to replace Libor is looming at the end of this year, but the transition could take longer. It's set to be a seismic shift, and while Central banks have been working to meet the deadline, fears have mounted over how prepared the markets are amid the fallout of the Covid-19 pandemic.
Hayes was convicted in 2015 by a London court of rigging Libor following a two-month trial. Before his conviction he had been a star trader at UBS in Tokyo from 2006 until 2009, when he was poached by Citigroup, which dismissed him less than a year later as the Libor scandal began to widen.
At his trial, Hayes was described by prosecutors as the "ringmaster" of a global network of traders and brokers who manipulated Libor, while some saw him as the fall guy for what had been until then a common practice at the world's biggest banks.
After his original 14-year sentence was cut on appeal to 11 years, Hayes found himself behind bars alongside some of the U.K.'s most dangerous offenders as the length of his term meant he had to be housed in high-security facilities.
In jail, Hayes said his fellow prisoners asked him for his views on finance, particularly the explosive growth of Bitcoin and other virtual currencies.
"The thing I got asked about most in prison, in relation to financial assets, was crypto -- absolutely bonkers for crypto," he said. "It didn't matter which type, which coin."
Hayes said he regretted not buying Bitcoin back in 2011 when he still had spare money to invest.
"I was looking at Bitcoin back when it was $5 a coin back in 2011, and I almost bought 1,000 because for me at that time $5,000 was nothing, it would just be a punt. That was a mistake, because I'd have $30 million, $40 million now."
Since leaving prison, Hayes said he had been fascinated by the spike in the shares of GameStop Corp. and other companies driven by retail investors coordinating their activities on social media.
"This whole Reddit thing is absolutely spectacular," he said.
"The sophistication of them using the options market as well is just brilliant," he said. "I was totally surprised to read about it.
" To be honest with you, I'm not even sure what Reddit is," he said. "I now know it's a forum where people speak. I might have a look at it."