To Revive the Economy, Governments Get Creative With Debt Sales
(Bloomberg) -- Governments are getting creative as they look to finance an economic recovery with the most new debt since World War II.
Germany is gearing up to issue it first-ever 15-year bond, a person familiar with the matter said Tuesday, asking not to be identified because they're not authorized to speak about it. Meanwhile, the U.S. plans to resurrect sales of 20-year debt for the first time since the mid-1980s, with an announcement of auctions expected Wednesday.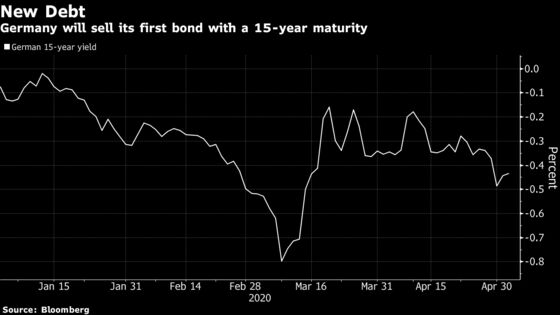 It's a sign of just how much money governments around the world are looking to pump into the global economy as it reels from the impact of pandemic-necessitated shutdowns. With so much capital to raise, they're looking to woo as many investors to their bonds as possible -- prompting some creative structures and sales strategies. For example, Germany is opting to syndicate its debt for the first time in five years.
The nation "is taking a safety first approach by using a syndication for this new 15-year bond, which also reflects the larger and more frequent German issuance this year," said Peter McCallum, a rates strategist at Mizuho International Plc. "The deal is therefore likely to price cheap enough to secure satisfactory demand."
Germany's sale is expected to take place on Wednesday and McCallum expects six billion euros ($6.5 billion) to be sold.
Syndicated deals from Italy and Spain attracted record demand last month.
Germany has mandated five banks -- BNP Paribas SA, BofA Securities, Credit Agricole CIB, Commerzbank AG and HSBC Bank Plc -- to arrange its sale, the person with knowledge of the matter said.
Meanwhile, the U.S. will unveil its issuance plans for the May-July quarter on Wednesday at 8:30 a.m. in Washington.
The nation's Treasury Department in the past has also floated the idea of 25-, 50- and 100-year debt, but only the 20-year bond has advanced so far.