To Fix the Treasury Market, Wall Street Says Bring Back Buybacks
(Bloomberg) -- Wall Street dealers are calling on the U.S. to revive a tool it last used almost two decades ago as a liquidity crisis roils swaths of the government bond market.
JPMorgan Chase & Co. and Bank of America Corp. want the Treasury Department to initiate its first buyback program since 2002 after volatility soared in the $16.9 trillion market for U.S. debt. Under the operation, the government would use the proceeds from selling new securities -- which dealers favor for trading -- to buy back older notes and bonds, which trade less frequently. In the past week, some of this legacy debt has become almost impossible to transact, exacerbating price moves across the market.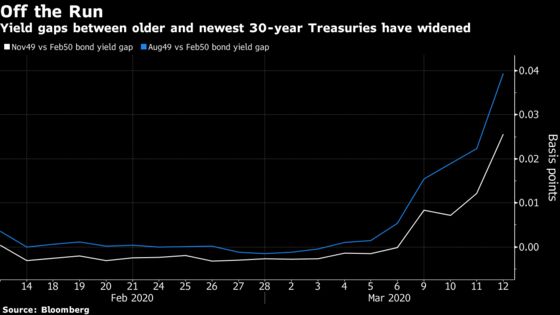 The illiquidity, if sustained, could force leveraged investors to liquidate their positions into a poorly functioning market, leading to a cascading effect whereby yields jump and force more investors to sell.
Buybacks "would represent a strong real money investor that could aid dealer risk transfers and improve two-way market making activity," Bank of America analyst Mark Cabana wrote in a note Thursday. JPMorgan strategists led by Jay Barry said buybacks could "help alleviate what appear to be significant market functioning issues in the most liquid fixed income market globally."
The Treasury Department declined to comment.
Demand for haven assets has surged as the coronavirus attained pandemic status, dragging Treasury yields below 1% across the curve. But workplace disruptions aimed at slowing its spread -- such as sending traders home or to different locations -- have curbed risk taking and market making, impairing liquidity for all but the newest Treasury issues.
Treasury yields jumped as stocks cratered on Wednesday, reversing their typical correlation. Realized volatility has jumped to the highest level since euro-area breakup concerns and the financial crisis, causing dealers to widen their bid-offer spreads and limiting their ability to transfer risk.
A 30-year Treasury bond issued just nine months ago has underperformed the most-recently issued bond by five basis points over the past week, according to JPMorgan. The newest Treasuries, known as on-the-runs, "are displaying a premium relative to off-the-runs that we have not observed since the taper tantrum in 2013, and the financial crisis in 2008," Barry wrote.
Bank of America estimates that the U.S. Treasury would have to spend $50 billion to $100 billion to stabilize conditions and foster more orderly market making, and predicted that it would "signal that these buyback operations are being done to promote market functioning and will remain open ended until more orderly market conditions prevail."
Bank of America predicted Treasury would issue short-term bills to finance buybacks. Wall Street has been grappling with a shortage of T-bills as the Treasury cuts supply in response to tax season and the Federal Reserve buys bills to boost reserves.
Alternatively, Jefferies strategists Thomas Simons and Ward McCarthy said in a report that Treasury could "start a buyback program immediately with available cash and fund it going forward with increased issuance."
The Treasury conducted buybacks regularly from 2000 to 2002 after the federal government started running small surpluses a few year prior that alleviated the need to issue debt. To maintain its access to the market, the department continued to sell new notes and bonds, and used the proceeds to pay down debt accumulated in previous years. Deficits have since returned, with the current year gap projected to reach $1 trillion, rendering such operations unnecessary.
Through those reverse auctions, the Treasury bought back $68 billion of debt with remaining maturities of 10 years or longer and at coupons as high as 14%, according to Deutsche Bank AG strategist Steven Zeng. Zeng in January advocated for buybacks to allow Treasury to issue 20-year bonds without having to reduce its auctions of other products.
Since 2014, the department has conducted small-scale debt buybacks to test operational readiness in case they were needed in the future.