Tiny Health Stock Triples After Lung Cancer Test Wins Wall Street Praise
(Bloomberg) -- Micro-cap diagnostic company OncoCyte Corp tripled intraday after announcing break-through results for its lung cancer test that won praise from Wall Street.
The company's R&D validation study of DetermaVu, a non-invasive blood test, "significantly outperforms any other previous blinded study of its kind and signifies the first blood based test on the market to use strictly biomarkers for cancer detection," Janney analyst Paul Knight proclaimed in a note upgrading his rating of shares to buy from neutral.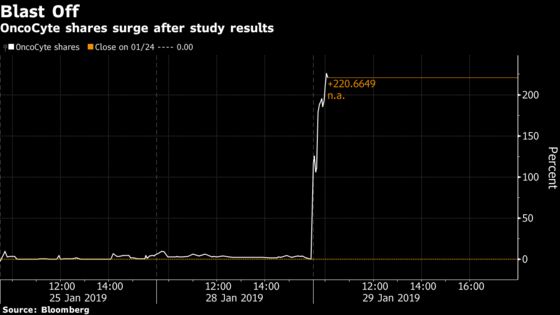 Shares of the Alameda, California-based company spiked the most ever, climbing as much as 234 percent at 10:17 a.m. in New York on more than 17 million shares traded, more than 590 times its average three-month volume. BioTime Inc., which holds more than 35 percent of OncoCyte, jumped more than 35 percent on elevated volume.
The company's success using biomarkers alone instead of clinical data has never been done before, Chief Executive Officer William Annett said by telephone, noting that DetermaVu offers doctors the ability to test whether or not a patient should be biopsied for cancer. The company sees the "game-changing" test having the potential to target a $4.7 billion market and plans to bring the product to market later this year.
"We believe we will be able to effectively promote the test with a very small, specialized sales force," chief operating officer Al Parker said. "We don't anticipate, at this time, needing to necessarily engage in the type of partnership that you saw with Exact and Pfizer" for our product to be successful.
Notable competitors in the lung cancer confirmatory test market include Biodesix Inc.'s XL2 and Veracyte Inc.'s Percepta tests, though neither test has not shown the robust results seen in OncoCyte's study, according to Knight.