Timid Lending-Growth Ambitions Sting Brazil's Biggest Bank
(Bloomberg) -- Itau Unibanco Holding SA is feeling the pain from investors' high expectations.
Analysts aren't seeing much room for the stock to rise amid guidance that left some wanting more. The lender's shares are leading losses in Brazil's benchmark Ibovespa index, and Bank of America Merrill Lynch downgraded the stock to neutral, citing limited upside to its earnings estimates.
Latin America's largest bank by market value announced fourth-quarter recurring net income that missed the lowest analyst estimate. Itau said it expects its loan business to expand as much as 11 percent in Brazil this year -- a more conservative forecast than the one made by its main rival, Banco Bradesco SA, which said its loan business could jump as much as 13 percent in 2019.
Chief Executive Officer Candido Bracher said Tuesday that estimates for 2019 should take the bank's return on equity -- a profitability measure -- near 24 percent, from 21.9 percent in 2018.
"I don't consider our forecasts to be conservative," he told journalists at the bank's Sao Paulo headquarters.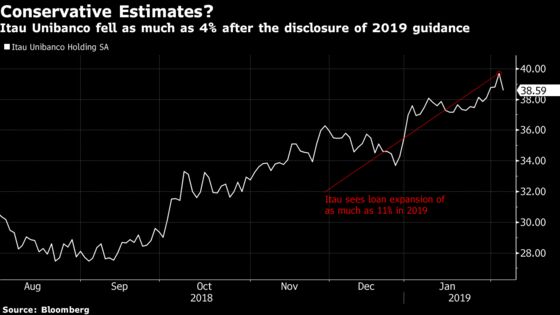 Analysts didn't seem convinced. UBS's Philip Finch called the guidance "more modest than Bradesco's," while Goldman Sachs said it was "underwhelming',' adding that it compared "poorly with peers that have also guided for the period." Santander Brasil also said the bank's expectation for higher cost of credit should "more than overshadow" positive expectations for net interest income -- the revenue from interest earned on assets minus payments to depositors, according to analysts led by Henrique Navarro.
Itau is up 16 percent in the past 12 months, lagging behind most of its peers in the MSCI Brazil/Financials Index. The shares have 10 buy recommendations, seven holds and two sells.