Times Square Luxury Hotel Heads to Auction in Foreclosure Sale
(Bloomberg) -- The Times Square Edition, a luxury Manhattan hotel, is headed to auction after a New York State court entered a judgment of foreclosure and sale.
The property -- including the 42-story hotel, retail space and digital billboard -- was once valued at more than $2 billion, and has been the subject of a long-running dispute between owner Maefield Development and a group of lenders led by Natixis SA. 
Representatives for Natixis and Maefield declined to comment.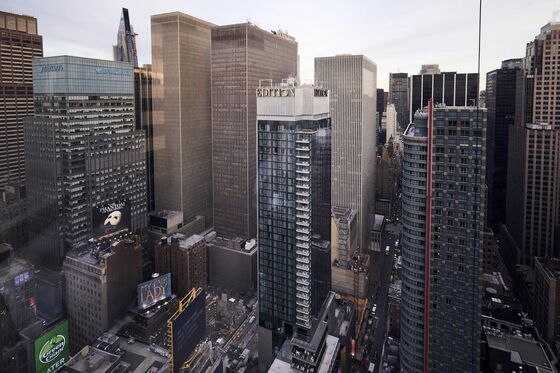 The Edition is part of a brand created by Marriott International Inc. and the legendary hotel designer Ian Schrager. Neither is responsible for the debt.
The lenders first sued in 2019, before the pandemic roiled the global hospitality industry. The hotel closed in March 2020 and remained shuttered for more than a year. 
Marriott warned Maefield in 2020 that a cash shortfall could put the developer in default on its contract with the lodging giant.