TikTok's Black Creators Say Unfair-Treatment Complaints Ignored
(Bloomberg) -- Mya Nicole Johnson, a 15-year-old Black influencer with 675,000 TikTok followers, says her account has been blocked from posting seven times in the past eight weeks. Kahlil Greene, a social media star at Yale University who was also its first Black student body president, posts educational videos about the history of oppression in America, but they keep getting auto-removed for "hate speech" or "harassment." Creator Erick Louis has noticed that some TikToks that include Black Lives Matter in their captions are immediately put under review.
The reason? "That's what I'm trying to figure out," Johnson said.
Black creators are struggling with the best way to resolve their frustrations with ByteDance Ltd.'s TikTok, and with the influencer economy at large, after noticing possible unfair treatment such as sudden account takedowns or de-ranking of their content. Many also say they're creating work, such as choreography for popular songs, that gets copied by more famous White counterparts without credit. More recently, creators attempted a "strike," refusing to make a dance to pop star Meghan Thee Stallion's new song "Thot Sh-t," in protest of white creators using their work to go viral.
"It is a labor issue," Louis said. "It's an issue of exploitation."
It's unclear who exactly they were striking against. Creators say they have little recourse when their employers are the multiple brands they represent, and their performance venues are social media applications with customer service systems as opaque as their algorithms. With the rise of apps like TikTok, social media has transformed from a hobby to a full-time profession for some of its top influencers. Black TikTokers say they simply have to deal with feeling underpaid and underrepresented if they want access to their audiences.
"I think they have a legitimate gripe, and it is kind of sad that these platforms are not communicating readily with the people who are doing all this uncompensated labor for them," said Freddy Tran Nager, who researches and teaches entrepreneurial communication at the University of Southern California. "But keep in mind, these platforms have millions and millions of users and would probably need millions and millions of customer service reps to communicate with them all," he added.
Black creators have theorized that TikTok's algorithm and video monitoring policies unfairly target people of color. But influencers of every demographic background complain about confusing enforcement of content rules on social media, and it's difficult to find data on whether Black creators are disproportionately affected by takedowns, which can happen automatically if an algorithm suspects something against TikTok's policies.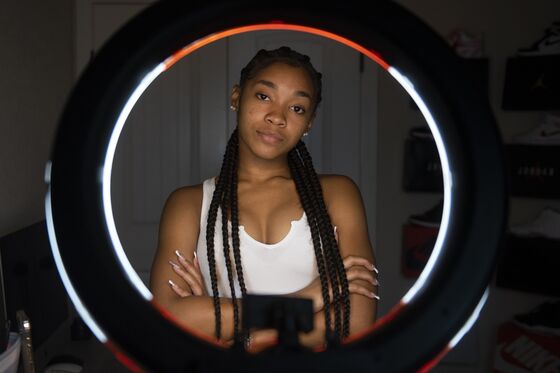 TikTok is responding to the critiques by starting new initiatives. They've appointed a diverse group of creators to highlight people of various backgrounds, for instance, and have been training human moderators and algorithms to understand "more nuanced content," the company detailed in a June 23 blog post.
"We unequivocally do not moderate content or accounts on the basis of race, and we continually take steps to strengthen our policies," a TikTok spokesperson said. "We're committed to seeing that our policies and practices are fair and equitable."
Still, a plea for equal treatment of Black artists has turned into a movement on the app. Their concerns were validated when TikTok giant Addison Rae Easterling appeared on The Tonight Show Starring Jimmy Fallon in March, performing dances mainly choreographed by Black TikTokers without crediting them.
When Johnson, who created the "Up" dance along with Chris Cotter, saw Easterling perform it for Fallon, "I was like, 'Dang, that could've been me and Chris performing our own dance,'" she said. After internet backlash, Fallon invited the original creators of the dances to Zoom into his April 5 show. Johnson joined, calling it a "blessed opportunity."
In order to prevent the same thing from happening again, when Meghan Thee Stallion released "Thot Sh-t" on June 11, Black creators avoided choreographing dances to it. Louis posted a video on Juneteenth to the sound of the song with text written in all caps on the screen: "Made a dance to this song!" But when the chorus hit, Louis put up his middle fingers and new text flashed on the screen: "Sike. This app would be nothing without Blk people."
Black influencers have generated many of the trends that dominate the app. Yet, there is no Black TikToker who has a following comparable to the app's biggest White creators, such as Easterling, something that influencer Jordan Ray finds "odd."
Ray and creator Jaired Barefield both suggested that TikTok add a tag line for dance credit, like there is for audio on the app, in order to improve the attribution issue.
Perhaps the most challenging part of being a creator, though, is the limited means of communication with TikTok. TikTok says when a video is removed, it lets the creator know why and gives them an opportunity to appeal the decision. Johnson's mom, Candice Rangel, who is also her manager, reaches out to TikTok frequently, but often receives what appear to be automated responses that apologize for the inconvenience and restore her daughter's account, she said. Once, TikTok reached out and said that Johnson's account may have have been suspended due to suspicion that she was underage: You have to be 13 years old to have an account, and Johnson is 15.
After Greene posted an informational video on the strike on June 25, the accompanied sound was removed by TikTok.
"They took away the sound lol, I'm officially done with this app," he wrote in the comments section.
Creator Syera Plitt, who specializes in dance videos with 2.9 million followers, said her pieces often get taken down, with a notice from TikTok saying they represent sexual content, even though she is fully clothed. "But I will see other creators, particularly White creators in full-on bathing suits -- I've even seen people in lingerie -- and their videos just get millions and millions of views."
While the strike has generated media attention, creators remain skeptical that it will stimulate change.
"I think the strike is a good thing cause it can show TikTok that, like, 'Hey we're here, we actually exist. We're giving you everything and you're not giving us the same back.'" TikTok influencer Will Horne said. "But do I think TikTok will actually listen? I don't know about that."
This TikTok choreography boycott could be the first step to more formal organizing, Tran Nager said. He urged TikTokers to form a guild in order to protect their rights. TikTok's algorithm is not going to become more transparent anytime soon, he added, so creators should figure out a way to have a more direct relationship with their audiences, outside of the app.
"Don't let TikTok dictate your success, just use it," he said. "People should turn the tables on these platforms. Use them, but move on as soon as you start gaining any traction."