Why Plunging Fed Odds and Jobs Miss Failed to Dent the Dollar
(Bloomberg) -- The dollar is poised to end a tumultuous week for financial markets relatively unscathed, even as the global equity sell-off helped drive aggressive paring of expectations for additional Federal Reserve interest-rate increases.
With the U.S. rates market pricing in Fed rate cuts in 2020 and the first inversions of the U.S. yield curve since 2007, the greenback's resilience is eye-catching. The Bloomberg Dollar Spot Index is down 0.4 percent this week. Its last weekly drop, in mid-November after Fed Vice Chairman Richard Clarida said there's "some evidence" the world economy is slowing, was 0.5 percent.
Why the stability? Foreign-exchange analysts cited three factors:
The dollar remains a store of value, Jane Foley, head of foreign-exchange strategy at Rabobank, said.
"The dollar is still a safe haven for many investors," she said. That should cushion the greenback "in the near term, but I suspect the yen will outperform if safe-haven demand persists."
Even disappointing November employment data -- including smaller-than-expected increases in nonfarm payrolls and average hourly earnings -- failed to push the dollar to weekly lows.
"Oddly enough, the fear of another big risk-off day in coming weeks is itself limiting willingness to go short USD," Deutsche Bank AG's Alan Ruskin, global co-head of foreign-exchange research, wrote in a report after the jobs data.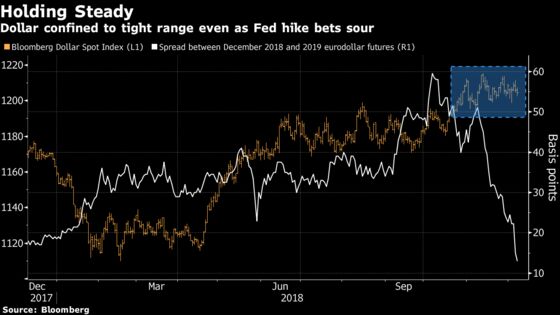 The annual year-end hunt for greenbacks helps explain why the currency is holding its own, according to Brad Bechtel, head of foreign exchange at Jefferies LLC. Dollar funding costs tend to rise in the final weeks of the year as companies and investors tidy up their portfolios.
"There's always a natural demand for dollars as you head into year-end," said Bechtel in a Bloomberg Television interview Friday. "If you look at things like currency forwards and cross-currency basis swaps, there's a little bit of tension there."
Despite the November employment weakness, the U.S. economy continues to show up its global peers, according to the Canadian Imperial Bank of Commerce.
"We've had data that points to softer China and EU data, which implies that global demand is still soft," said Bipan Rai, head of North American foreign-exchange. "The U.S. economy is slowing, but the dollar's liquidity trumps until we see signs that the slowdown outside the U.S. is abating."
Citigroup Inc.'s Economic Surprise Index for the U.S. went negative in late November, yet remains well above those of Europe and China, which have been below zero for many months.
Still, dollar resilience may be short-lived, Rai said.
"The miss in monthly wages supports the Fed's dovish pivot over the past few months," he said. "Unsurprisingly, this should support a softer dollar tactical view for the time being."