Three New Governors Face Three Old Pension Disasters 
(Bloomberg Opinion) -- As far as the fiscal health of U.S. states is concerned, there's Connecticut, Illinois and New Jersey, and then there's the rest of the country. Each state has chronically underfunded pension plans, so much so that they have less than 50 percent of assets needed to meet future liabilities. They're the only states with unanimous general-obligation bond grades below double-A from the three biggest credit-rating companies. They pay noticeably more to borrow than their neighbors.
They also share recent changes in their governor's office in the most recent elections. Democrat Philip Murphy succeeded Republican Chris Christie in New Jersey in 2017; Democrat J.B. Pritzker easily knocked out Republican Bruce Rauner in Illinois last fall; and Dannel Malloy passed the baton to Ned Lamont, a fellow Democrat, in Connecticut in November. Needless to say, they've stepped into unenviable situations. By one measure, New Jersey has the worst business climate in the nation, which encouraged top taxpayers like David Tepper of Appaloosa Management to move to Florida. Connecticut and Illinois were among the few states to experience a net population decline in the year through July 2018, Census data show.
Those are tough trends to work against. To Pritzker's and Lamont's credit, at least they're trying to confront their problems in their first budget proposals. Illinois has a whopping $134 billion in unfunded pension liabilities, while Connecticut has $35.5 billion. Both governors released plans last week that acknowledge the need to make full contributions to the retirement funds and recognize that returns will most likely be lower in the future.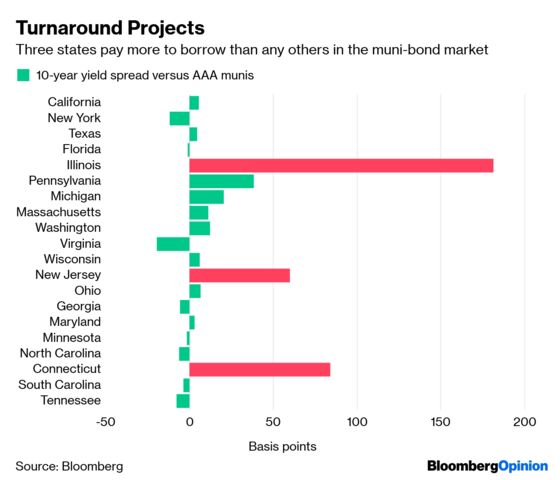 Illinois, among other things, wants to issue $2 billion of debt and inject the proceeds directly into its pensions, on top of its annual payment:
The potential borrowing is part of a broader plan by the new governor to tackle Illinois's $134 billion debt to its pension funds, one that also includes raising taxes and potentially handing government assets like office buildings over to the retirement system. [Deputy governor Dan] Hynes said last week that the $2 billion would supplement Illinois's annual contribution — not be used to cover it — in a wager that the investment earnings will reduce what the state owes.

Pritzker's approach, if enacted as proposed, would mark a break from how previous governors used pension bonds to cover their annual payments or hold down such contributions. That practice drove Illinois deeper into the hole as it failed to set aside enough money each year to ensure that the state will be able to pay for all the benefits that have been promised to employees.
Lamont, a Democrat, released a $43.1 billion two-year budget Wednesday that asks cities and towns to pick up $73 million of pension costs for current teachers over the next two years. He proposed giving the state 30 years to pay down its $14 billion debt to the teachers' pension instead of 12, while reducing the assumed rate of return on investments to 6.9 percent from 8 percent.

Annual payments to the teachers' pension could balloon by more than $2 billion if the fund isn't restructured, Lamont said.

...

The governor also proposed tying cost-of-living increases for retired state employees to pension performance. The plan would require union approval.
I wish them luck. Importantly, they're both starting from a place of promising to pay into their retirement funds. In New Jersey, Murphy did the same with his first budget in 2018, with the state setting aside a $3.2 billion pension payment, its largest ever, for the current year. This sort of commitment is overdue and a sign of good faith, rather than shortchanging the funds and then declaring a crisis to slash benefits to public workers.
The question, as always, is whether state legislatures will implement these plans and whether they'll work as promised. In Connecticut, predictably, "local elected officials from both parties have opposed assuming a share of teachers' pension costs." In Illinois, some onlookers see the proposed strategy as "more like an accounting gimmick than a true funding mechanism."
At this point, there's no one-shot solution to the states' pension woes. Lamont, facing a $3.7 billion deficit in his first biennial budget, wants to tax sugary drinks and services like haircuts and dry cleaning in Connecticut. He also wants to toll vehicles on some highways and negotiate with hospitals and clinics over costs for employee health care. Pritzker, with a $3.2 billion deficit of his own, proposed legalizing and taxing marijuana and sports betting. Those aren't recipes for immediate cash windfalls. Consequently, the governors say they need more time. Lamont wants to pay off the $14 billion owed to the teachers' pension plan over 30 years instead of 12, while Pritzker wants to extend the timetable for paying down pension debt by seven years.
None other than Warren Buffett called public pensions a "gigantic financial tapeworm" five years ago. "During the next decade, you will read a lot of news — bad news — about public pension plans," he wrote in his annual report to shareholders of Berkshire Hathaway Inc. Since that prediction, Connecticut, Illinois and New Jersey have been downgraded three times each by S&P Global Ratings.
Because of the current state of the U.S. economy, the leaders in these states might have the last chance to get these funds back on track. The prospect of a recession looms large, which could spell the end of the long move higher in stocks. A relentless rally in risk assets has helped allay some of the underlying issues. Sustained market losses could be a death knell.
Steve Sweeney, New Jersey's top-ranking lawmaker, suggested in October that the state use the public's anger to demand solutions. Whatever it takes for politicians on both sides of the aisle to get serious about the long road ahead. All eyes in the muni market will be on this trio of troubled states in the coming budget season.
Cash-strapped localities do get a bit of a break, as Bloomberg News's Martin Z. Braun notes: "Unlike his predecessor, Lamont is only proposing that towns pay for the `normal' cost of teachers' pensions, not the unfunded liabilities accrued over decades. The plan, which would be phased in over three years, would require wealthier towns that pay teachers more than the state median to pay a share equal to each percentage point above the median. Distressed municipalities would pay 5 percent."
This column does not necessarily reflect the opinion of the editorial board or Bloomberg LP and its owners.
Brian Chappatta is a Bloomberg Opinion columnist covering debt markets. He previously covered bonds for Bloomberg News. He is also a CFA charterholder.