Three Days of Video Calls Illustrate Canaccord's New Normal
(Bloomberg) -- For most of his career, Canaccord Genuity Group Inc. Chief Executive Officer Dan Daviau helped clients market stock sales by sticking their management teams and his bankers on planes and flying them around to meet investors for weeks on end.
The Covid-19 pandemic brought that practice to an abrupt halt. Daviau doesn't think it's coming back.
"Now we set them in a room and we do video calls for three days," Daviau said in an interview. "It's infinitely more effective. You can control the timing, you're never late for your next meeting, people don't feel like they're getting shafted because you didn't fly in to meet them. It's such a better way to market."
Travel restrictions haven't held back investment banks' equity capital markets divisions, which have soared as companies raised money to survive the pandemic or take advantage of other opportunities. There have been 5,360 equity and equity-linked offerings with a total value of about $930.9 billion so far this year globally, up 64% from a year earlier, according to data compiled by Bloomberg.
In Canada, there have been 410 deals with a total value of C$30 billion so far this year, up 17% from last year, according to the data. Canaccord has benefited, with underwriting fees lifting the country's largest independent investment bank to record revenue in the fiscal second quarter, which ended Sept. 30. The firm's shares have surged 62% this year.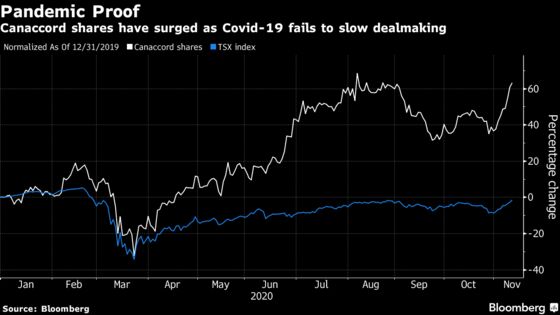 Some of the new practices are helping Canaccord's bottom line. General and administrative expenses in the quarter fell C$6.1 million, or 23%, across its core operations from a year earlier, driven by reduced travel and promotion costs.
But within the financial sector, many executives retain doubts about the sustainability of remote work. JPMorgan Chase & Co. CEO Jamie Dimon has said an extended period of working from home may not only be hurting workers' productivity, but also may cause lasting economic and social damage, including deaths from depression and overdose. His bank has been among the most aggressive in moving to staff back to offices and had set a goal of bringing as many as half of its workers back in New York in the fall.
Other financial firms such as Prudential Financial Inc. and Synchrony Financial have embraced permanent remote work for some employees as a way to reduce office space and cut expenses. Fifth Third Bancorp said in September that it would eliminate about 20% of its corporate office space as part of a plan to trim $200 million in annual expenses starting next year.
Read more:
U.S. Workers Back to Offices Fell to 26.4% in Past Week
At Canaccord, a Covid-19 committee meets every two weeks. In addition to discussing safety measures, the group talks about best practices the pandemic has forced on the bank that it can "memorialize" in its business, Daviau said. Those changes run the gamut from office design to training to travel policies, he said.
While maintaining culture in the roughly 2,300-person firm has been a particular challenge, new communication practices have proven surprisingly effective, he said.
"You used to have the advantage of screaming across the desk," he said. "You don't have that advantage anymore. So we've had to develop CRM systems and internal systems to allow us to communicate better as a team, and those are never going away."
Some personnel, including many back-office workers, may never need to return to offices because they can be just as effective from home, Daviau said.
"There is no reason to force a bunch of people back to downtown New York, Toronto, London, Vancouver, if we don't need to," Daviau said. "People have adjusted. It's a whole new way of doing business."