This Tiny Bug Could Put a $625 Million Hole in Sweden's Forests
(Bloomberg) -- The vast wild fires that swept through Sweden last year aren't the only threat forest companies have to contend with as climate change makes summers hotter and drier. There's a much smaller -- but potentially bigger -- danger lurking in the woods.
The European spruce bark beetle, or Ips typographus, measures about 4 millimeters (1/8 of an inch). Several can fit on just a fingernail. But it damaged more wood last year than the record wild fires that ravaged Sweden. And as the bugs thrive in increasingly warm and dry weather, the damage they cause will likely grow.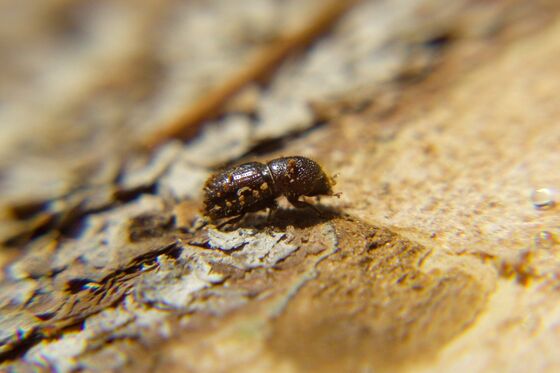 A worst-case scenario from the Swedish Forest Agency estimates that it could ruin as much as 12.5 million cubic meters of wood this year, costing as much as 6 billion kronor ($625 million). That's equivalent to more than 15 percent of annual logging. In its baseline scenario, it sees damage on par with last year's 3 to 4 million cubic meters.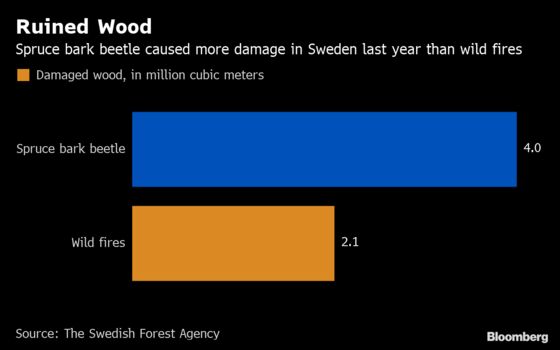 The woes related to climate change are piling up. Unusually mild winters are turning once icy grounds into thick mud capable of swallowing 25-ton logging vehicles. Hotter summers are increasing the risk of fires, which last year forced many companies to temporarily halt operations as the country was forced to call on help from across the European Union to battle out-of-control blazes.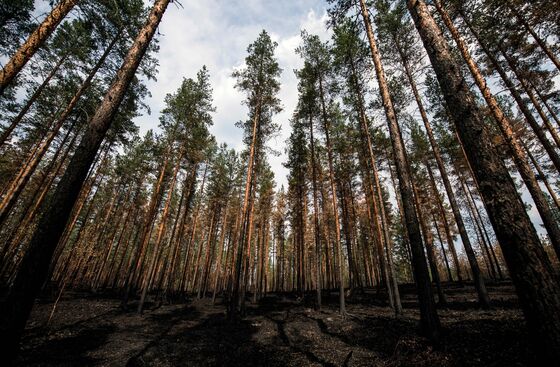 While the spruce bark beetle is not a new arrival, it now poses a bigger threat because global warming is having a direct effect on the natural defenses against parasites. Spruces thrive in wet and cold summers and can drown their uninvited guests in resin, but during hot dry spells their defenses are weakened, allowing the beetles to multiply much easier.
Much to the chagrin of forest owners, the tiny bugs also have a taste for the most expensive trees, preferring those of a medium to old age, or between 40 to 100 years.
"The value of wood deteriorates radically, from timber to fuel," said Hans Kallsmyr, a damage coordinator at the Swedish Forest Agency.
The agency has now created a crisis task force together with the industry to combat the threat. Key is to identify, cut down and remove damaged trees as soon as the bug starts to swarm in the spring. Some companies are even using artificial intelligence, algorithms and satellite photos to track spruce beetle attacks.
But even when all the correct measures are taken, they can only control about 25 to 30 percent of the risk of further contamination, according to Torbjorn Elofson, a regional manager for Holmen Skog AB. The rest is up to the weather, he said.
"The reason for the extensive attacks last year was that the forest was so dry it became stressed," Elofson said. "The forest is dependent on rain to grow and to be resistant."
A spruce should preferably grow for 50 years before its finally cut down. During that time, the extremely dry weather Sweden experienced last summer could become a new normal, according to Gunnar Isacsson, an ecologist at the forest agency.
It is now advising forest owners to start planting more of other trees than spruce in order to diversify.
That would certainly leave the spruce beetle without its favorite trees, but could also cause vast changes to Sweden's natural habitat.