These Charts Show How Soy Farmers Are Paying the Trade-War Bill
(Bloomberg) -- Thanks to Donald Trump's trade war with China, the world's biggest soy consumer has very little interest in buying American shipments. Now, as U.S. farmers are in the midst of harvesting a mammoth crop, they're bearing the costs.
Not only are soybean futures tumbling, but the cash prices farmers are being offered in many parts of the country have fallen to a discount under futures. Further adding to their woes, growers will probably run out of space to store, forcing them to offload the crop at a time when all market indicators are signaling they should be hoarding.
"U.S. producers now face a triple price disadvantage," the Agricultural Market Information System, started in 2011 by Group of 20 agriculture ministers, said in a report Thursday. "In other words, U.S. producers selling soybeans during this fall period are certain to make distressed sales."
These charts show the pain of American farmers: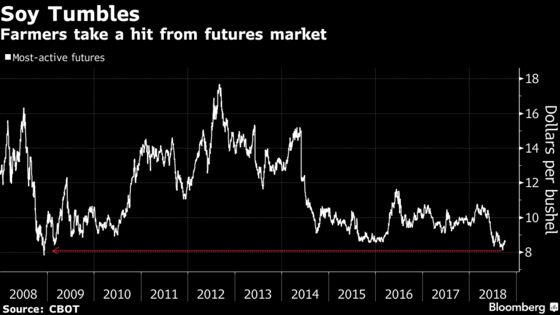 Everyone from Treasury Secretary Steve Mnuchin to Trump himself have made references to the soy futures market as the trade war raged. That's because prices in Chicago have been in free fall, recently dropping to the lowest in a decade. The move surprised even some of the world's largest agricultural commodity traders. Bunge Ltd., the 'B' in the so-called ABCD companies that control the world's food trade, was caught wrong-footed in its second quarter. Since futures set the benchmark in the soy world, the declines will hurt farmer profits.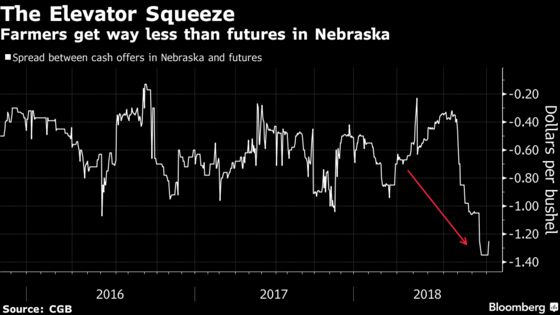 If you thought futures at a 10-year low as bad, wait until you see how much farmers are getting for their new crop. The U.S. harvest was 23 percent complete as of Sept. 30, and any grower looking to sell will likely have to do so at a massive discount. In Nebraska, offers at grain elevators have fallen to discounts of more than $1 a bushel below November-delivery futures.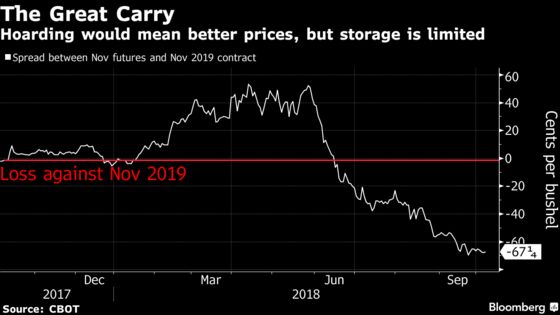 Soybean prices are so depressed that the incentive to store is near a record. Chicago futures for delivery in November are at a discount of about 67 cents a bushel to futures for the same period next year. Even with the glimmer of better prices down the road, growers are likely to run out of space and have to sell anyway.
Domestic soybean inventories as of Sept. 1, before harvesting got underway for this season's crop, were the largest for the time of year since 2007. With cupboards already so full, Bunge Chief Executive Officer Soren Schroder said farmers may even turn to "ground piles" to store beans.