Holmes's Silence on Mental Defense Spurs Prosecutors' Questions
(Bloomberg) -- The latest mystery in the prosecution of Elizabeth Holmes is whether she still plans to claim she was suffering from a "mental disease or defect" when she allegedly duped investors into backing Theranos Inc.
In a court filing, prosecutors are asking why a 46-page questionnaire Holmes wants to use to vet jurors for her trial in three months doesn't include a single question related to the mental-health defense her legal team was exploring last year. This line of defense hasn't been discussed in public filings or hearings for almost nine months -- until now.
"Given the breadth in number and coverage of questions that defendant proposes, the government submits this is a glaring omission," prosecutors wrote.
Anne Coughlin, a professor of criminal law at University of Virginia, said it may signal that Holmes has abandoned the mental-health defense, which Coughlin and other legal experts have said would be a tough sell to jurors.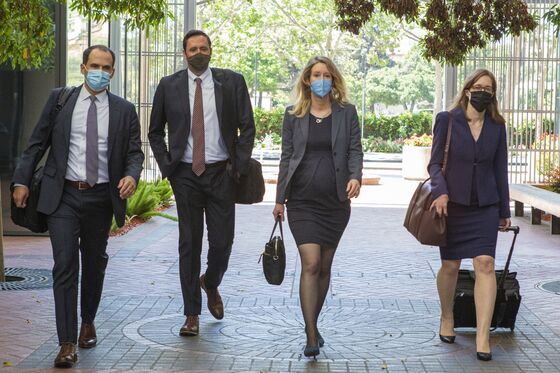 "It could well be that her lawyers initially thought that they would argue that Holmes suffered from some sort of mental disorder or condition that precluded her from forming the intent to defraud or that excused or mitigated her misconduct," Coughlin said Friday. "The omission of any reference to that theory in the jury questionnaire suggests that they won't go that route."
Lance Wade and Kevin Downey, lawyers representing Holmes, didn't immediately respond to phone and email requests for comment.
Holmes wants the court to call a larger-than-average jury pool and use a longer-than-usual questionnaire out of concern that years of bad publicity around the collapse of the blood-testing startup will make it difficult for her to get unbiased jurors and a fair trial.
Prosecutors argued in their response filed late Thursday that Holmes's 112-question form "is far too long, deeply intrusive of potential jurors' privacy in unnecessary ways, argumentative and repetitive, and does more to potentially bias the jury in her favor than to aid in selecting a fair and impartial jury representing a cross-section of the local public."
The government said one category of questions "seems aimed solely at creating a jury profile from responses and should be rejected as irrelevant gamesmanship." Those questions include whether the prospective juror has a general opinion about startup businesses, has ever written a letter to the editor or called in to a radio show or thinks companies that oppose a government regulation and seek to overturn it are more likely to commit fraud.
Prosecutors agreed with Holmes's lawyers that starting with an expanded jury pool is a good idea. They also said follow-up questioning of individual jurors to weed out people with biases may be necessary to "address sensitive topics" around Holmes's mental-health defense.
The government said it asked Holmes's team on May 11 why its draft questionnaire didn't address the mental-health defense. Court filings don't indicate whether the defense lawyers responded.