The Wheel Turns for South African Bonds as Sell-Off Worsens
(Bloomberg) -- South African government bonds handed dollar investors a whopping 13 percent return in the first quarter, the best performance out of 25 major emerging markets. In the second quarter, they've lost it all, and then some.
Rand-denominated debt has lost 17 percent since the beginning of April, the most among developing nations after Argentina and Turkey, according to data compiled by Bloomberg. That's partly a result of the rand's slump against the greenback as U.S. rates rose and sentiment soured toward emerging-market assets. But it also reflects rapidly waning confidence in Africa's most-industrialized economy as the euphoria surrounding Cyril Ramaphosa's election as president fades.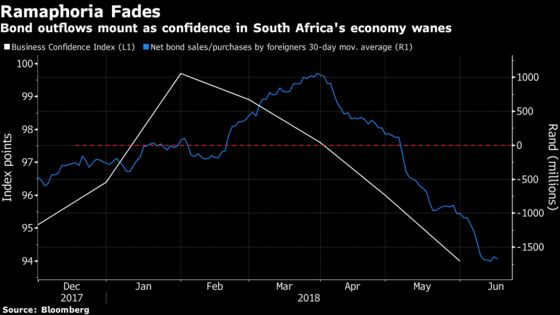 An index of business confidence slumped to a seven-month low in May, after data showed the economy contacted 2.2 percent in the first quarter. Doubts are growing about Ramaphosa's ability to undo the results of years of mismanagement under his predecessor, Jacob Zuma.
The drop in confidence coincided with the biggest foreign-investor sell-off of South African bonds on record. Non-residents have dumped a net 44.7 billion rand ($3.3 billion) of debt since the beginning of May, with the daily average over the past month climbing to 1.67 billion rand. And that's despite yields on benchmark 2026 securities hovering around 9 percent, the highest for any investment-rated emerging-market nation.
The yield climbed six basis points to 9.06 percent by 4:50 p.m. in Johannesburg Thursday, the highest since December. The rand slid 1.7 percent to 13.6623 per dollar, the weakest level this year.
"The massive risk aversion sell-off trend globally has been very heavy in South African gilts, understandable as South Africa is often the proxy for emerging market sell-offs," said Annabel Bishop, chief economist at Investec Bank Ltd.
The 2026 bond yield could rise as high as 9.5 percent if the global risk-off environment intensifies, according to Bishop. That could complicate the policy path for the South African Reserve Bank, which has held back from raising interest rates even as the rand tumbled. If the economy recovers, the picture would be different, with the yield falling to around 8.84 percent, Bishop said.
For now, the outlook remains bleak. Expect more bond-market volatility as U.S. rates head higher, political risks in Europe escalate and trade tensions between the U.S. and China worsen, Standard Bank Group Ltd. strategist Shireen Darmalingam said in a client note Monday.