The Tycoons Ruled Israel. Then Came Billionaire Paul Singer
(Bloomberg) -- It took one of the world's most feared investors to remind Israelis that the rules of the game had changed.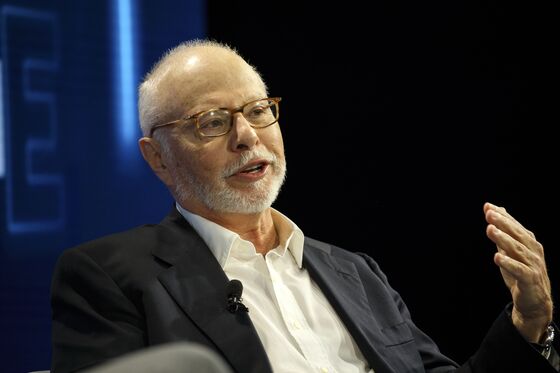 Two weeks into the year, Paul Singer's Elliott Management Corp. disclosed a large stake in Israel's biggest telecommunications company and demanded an overhaul of the board. Bezeq Israeli Telecommunication Corp. had been effectively controlled for years by Shaul Elovitch through holdings that allowed him to translate a small upfront investment into a tight grip on the company. Then within a few months, Singer replaced the Elovitch loyalists with independents.
It was a lesson in activism for the country's investors. For years, they had watched how a few tycoons influenced boardrooms through layers of debt-laden companies that gave them a disproportionate voice in strategic decisions. While the government introduced a new law to break up such concentrations of power, investors' attitudes were slow to change. After Elliott's campaign, more shareholders started to follow suit, taking on Israel's largest grocery chain and its second-biggest oil refinery.
"The Israeli investment community now gets it," said Gal Staal, the chairman of Entropy Group, an adviser that represented several institutional investors who had joined Singer's firm in the fight. "The institutions aren't going to accept the old way of doing business."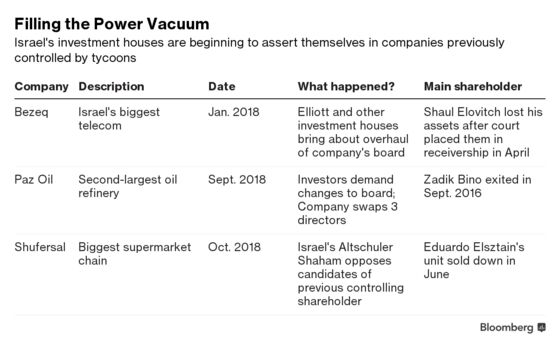 In early October, a group led by the second-biggest shareholder in grocery chain Shufersal Ltd. put forward two candidates for the board to minimize the influence of Argentinian businessman Eduardo Elsztain. Elsztain had also used layers of leveraged holding companies to help control Shufersal before selling down his stake in June.
In September, institutions holding 61 percent of the shares in Paz Oil Co. fired off a letter to the board, complaining of management blunders and low returns, and demanding higher dividends and new investments. Last month, they voted in three new directors to the board of the company, which until a few years ago was controlled by billionaire Zadik Bino.
Elliott wasn't the first investor to score a victory against a business magnate in Israel -- Staal had advised institutions for some time to take a more active role -- but it became a catalyst because of its reputation and the visibility of its campaign.
With Elovitch, Singer was taking on a high-profile tycoon who personified an ownership model dating back to the 1980s. Back then, a handful of businessmen used political connections to buy state assets during a wave of privatizations. With the help of large loans cascading through layers of holding companies, they cemented their grip on the nation's biggest companies.
The tycoons had amassed so much power that by 2013 about half the value of Israel's stock exchange was effectively run by 20 families. A new law at the time sought to limit their influence by splitting conglomerates that owned major financial and industrial companies. But while some started to reduce stakes, their influence in boardrooms endured.
"The market here is small and everyone knows each other," said Amir Shachar, a partner in the Israeli law firm Shibolet & Co. who specializes in areas such as corporate governance. "If you're an activist, you're going to pay a price socially.''
A long-time friend of the family of Prime Minister Benjamin Netanyahu, Elovitch had the kind of clout to discourage dissent against him. But that wasn't going to stop Singer, who once tried to seize an Argentinian navy ship to claw back an investment in the country's bonds.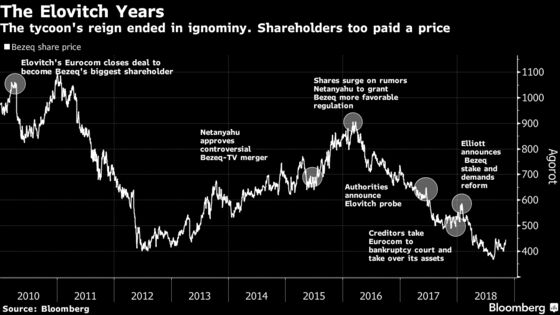 The way Elliott saw it, Elovitch had used his influence over Bezeq to benefit himself, extracting cash from the company through high dividend payouts so he could service the debt used to buy his stake. But his financing plan ran into problems when prices for phone and internet services started to fall. By 2015, three year's before Elliott's entry, Elovitch pushed Bezeq to buy his shares in the company's TV unit, at what investigators say was an inflated price. Elovitch has denied wrongdoing through his lawyers.
That transaction, along with alleged favor trading with Netanyahu, are at the center of several probes that threw Bezeq into turmoil last year, and eventually attracted Singer. The stock sank so much that it flashed across the screens at Elliott, according to a person familiar with the matter. The firm concluded that the alleged improper boardroom conduct was harming an otherwise healthy business, the person said. A representative for Elliott declined to comment.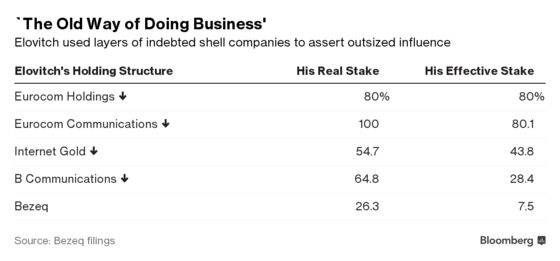 At Bezeq, Staal had been advising investors to take a more active stance since the contentious 2015 deal with Elovitch. Psagot Investment House Ltd., the country's biggest money manager, forced its own representative onto the board in August 2017, a first in Elovitch's tenure.
"This opened a lot of eyes," Barak Soreni, Psagot's chief executive officer, said in a phone interview. "The other investment houses began joining us in understanding that sometimes things like this need to be done, which is healthy and important."
Today, control over the vast majority of stocks traded in Israel remains concentrated, but more tycoons have to reduce holdings by the end of next year to comply with the concentration law. Shari Arison, Israel's richest woman, has said she wants to sell her holdings in the nation's biggest bank. Other industry titans have resolved to cut positions in some of the country's biggest insurers.
Investors are bracing for opportunities. Financial authorities are considering ways to tweak regulation that would encourage investment houses to propose directors on banks' boards. Entropy now employs a staff of 20 analyzing shareholder voting at the country's largest traded firms, up from just three in 2010, Staal said.
"There are going to be quite a few Israeli companies worth billions of dollars in the not-too-distant future with enough meat for activists," said Shachar at Shibolet. "What hedge fund or institutional investor would pass up such a meal?"