The Man Who Could Topple Netanyahu
(Bloomberg) -- Years before he became the man with a chance to topple Israel's longtime premier, Benny Gantz was a 12th grader with a graduation party on his mind.
He knew some of his classmates couldn't afford the luxury of a celebration, so he lobbied the boarding school where he studied in the Kfar Hayarok farming community outside Tel Aviv to give them a piece of land.
Gantz's idea, recalls his teacher, Sara Ran Haiykae, was to grow a crop the students could sell together, and thereby "avoid embarrassing anyone or creating a situation of privilege—to engineer the kind of independence where they could pay for the party themselves."
"I saw a leadership ability that was amazing," Haiykae said in an interview.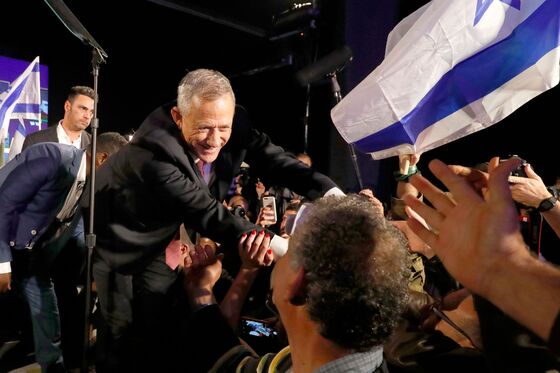 Gantz went on to serve for almost four decades in the Israeli military before entering politics just two months ago. Now, with Prime Minister Benjamin Netanyahu fighting for his political survival, Gantz may be on the verge of his greatest leadership test yet.
The attorney general's announcement of a draft indictment against Netanyahu on bribery and fraud charges has upended the campaign for April 9 elections, with polls showing Gantz's party most likely to form the government. That puts the former general head-to-head with Netanyahu in the most formidable electoral threat the four-term prime minister has faced since another former military commander, Ehud Barak, unseated him in 1999.
During a 38-year career that began as a paratrooper, Gantz commanded the West Bank and the front with Lebanon and Syria, rising to become the head of Israel's military from 2011 to 2015.
Yet it's in the ethical arena that he's waging his campaign against Netanyahu. Gantz, 59, portrays himself as a balm to a nation rubbed raw by a prime minister he describes as imperious and riddled with graft. He has the security credentials so important in Israeli politics and, at 6 foot 3 (1.91 meters), a commanding presence. Warning that "a bad wind" is blowing in Israel, he's promised to heal the rifts between left and right, religious and secular, Jews and non-Jews.
It's a pitch that cuts little ice with Netanyahu, 69, who denounces the general as a weak leftist prepared to make dangerous territorial concessions to the Palestinians. "The choice is clear," Jonatan Urich, a spokesman for Netanyahu's Likud party, said of the election.
Gantz is hardly the first Israeli general to burst onto the scene promising a better way. But at a time when the incumbent is showing rare vulnerability, Gantz's profile helps him to look like a credible alternative, according to Mitchell Barak, an independent pollster who once worked with Netanyahu.
In Israeli elections, "it's personality politics," said Barak. Gantz "has got charisma, he looks the part. People have a comfort level with a chief of staff."
That may just make Netanyahu all the more determined in his bid to win a fifth term and surpass founding father David Ben-Gurion as Israel's longest-serving premier. Netanyahu is "just going to be juiced up and ready to go," Barak said. "Netanyahu is best when he's got someone to fight."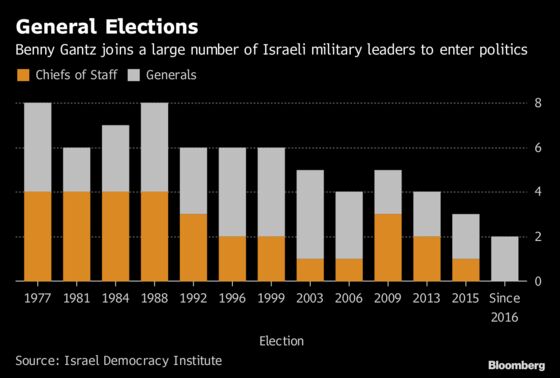 Gantz has teamed up with another leading centrist politician and two other ex-military chiefs to present a stronger front. Their Blue & White party—representing the colors of the Israeli flag—surged ahead of Netanyahu's Likud in the polls immediately after they joined forces on Feb. 21. After the draft indictment was released last week, surveys suggested a Gantz-led bloc was poised to form the next coalition.
Yet that is to ignore what's kept Netanyahu aloft for so many years: an unrivaled deftness as a political operator and a reputation as an articulate and tenacious defender of Israel's security. Added to that are diplomatic achievements that eluded predecessors, such as the transfer of the U.S. Embassy to Jerusalem. Diehard Likud supporters agree with him that the corruption investigations are the handiwork of leftist enemies bent on toppling him in the courts because they can't do so at the ballot box.
As Gantz's poll numbers rise, so have the attacks against him. Two people have come forward to claim the general exposed himself in high school. Gantz has denied the allegations, which his party says are politically motivated, and is suing one of his accusers.
Netanyhau is not standing still: to get as many people as possible into his tent, last month he maneuvered to bring a Jewish extremist group which demands the expulsion of Arabs from the biblical Land of Israel into an existing parliamentary party. Polls show the bloc they've created winning as many as seven of parliament's 120 seats.
For all his track record on security matters, Gantz's campaign positions aren't very concrete. The new bloc hasn't finalized its platform, though Gantz has said he plans to promote affordable housing and invest in the public health system to pull it out of crisis.
On all-important territorial matters, Gantz's stances broadly mesh with those of Netanyahu: A united Jerusalem under Israeli sovereignty, retention of West Bank settlement blocs, and a continued Israeli presence in the Golan Heights and Jordan Rift Valley. He doesn't see full peace with the Palestinians in the near future.
Gantz was born in Israel to a mother who survived the Bergen-Belsen concentration camp and a father who was arrested by the British for illegally trying to enter pre-state Palestine. His father, the Haaretz newspaper wrote, sent him to a boarding school because he thought he was too pampered at home, where he was the only son among four children.
His father belonged to a group in the 1970s that called for the establishment of a Palestinian entity—a rare position at that time. "I'm a little further to the right than my father," the newspaper quoted Gantz as saying.
In his military career, Gantz climbed the ranks to the top post, but not without stumbles over operations such as the chaotic withdrawal from southern Lebanon in 2000. He was a second-choice chief of staff, appointed only after the original nominee was forced out by a land-use scandal.
Some senior military and political officials who worked closely with Gantz criticized him as a dithering, non-confrontational commander. During the 2014 war in the Gaza Strip, Education Minister Naftali Bennett frequently assailed the conduct of the fighting, saying the military's response wasn't harsh enough. "Throughout his career, Gantz always wanted to cut and run," he said in a recent interview.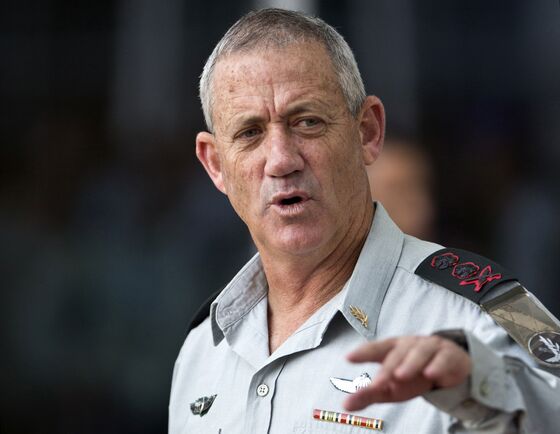 But in others he inspires loyalty. His teacher Haiykae has his vote. Chili Tropper, an educator running on Gantz's ticket, likened him to Yitzhak Rabin, the slain prime minister known as tough on security but willing to make concessions for peace. And Dan Emergui, a signal operator under his command 30 years ago, described an accessible commander who knew how to keep his wits about him in the toughest circumstances.
"He is impressive, charismatic and very pleasant. He spoke to soldiers as equals," Emergui said. "Beyond that, he was a great commander, a great fighter who knew how to give orders under fire," he added. "He is the kind of commander you follow with your eyes closed."
The Palestinians, despairing of another Netanyahu term, say they're willing to give Gantz a chance.
It will take months before Attorney General Avihai Mandelblit will decide whether to charge Netanyahu. The prime minister will first be entitled to a hearing to try to fend off prosecution, though not until after the election.
Gantz alluded to his aim to eliminate corruption in his campaign launch speech, pledging a government "without masters and servants, no obscene gifts and no court jesters."
The rest of his relatively blank slate of policies may not necessarily be a hindrance, according Barak, the pollster. "I call him the Charlie Chaplin candidate because he doesn't really say anything—and that leaves space for Israelis to fantasize about what they'd like him to be," he said.