Stephen Jen Says Fed Bazooka Is No Match for Rampant Dollar
(Bloomberg) -- If Stephen Jen wanted to prove his theory that the Federal Reserve could do little to hold back the dollar, he couldn't have asked for more than Monday's trading action.
Bloomberg's dollar index flipped from a gain to a loss as the Fed unveiled another barrage of measures to support a shuttered U.S. economy, including potentially unlimited quantitative easing. But the move didn't hold: At 3:55 p.m. in New York the gauge was on course for a 10th day rising, the longest winning streak since 2012.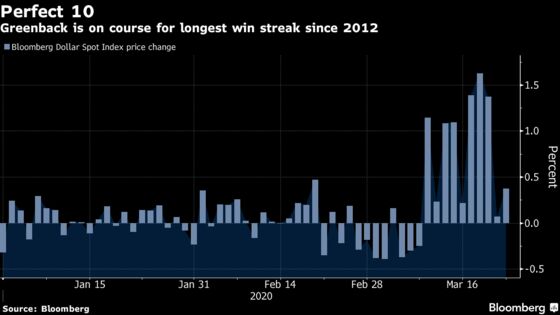 The earlier wobble was no more than knee-jerk stuff for Jen, the longtime currency guru behind the "dollar smile" theory. The central bank can do little to subvert the greenback as the world's number one funding currency, he argues, so it will ultimately be powerless to cap more gains.
"Given the big picture view, the dollar is still in a fantastic position that will be difficult to dethrone, no matter what people say," the chief executive officer at Eurizon SLJ Capital said in an interview.
For Jen, the same factors driving the dramatic Fed actions are the ones that make it tough to stem the currency's advance: Demand for the greenback is all about flight to quality, and that accelerates at times of crisis.
"As the U.S. suffers from a shock, much of the rest of the world will likely suffer even more," Jen said. "At the end of the day, exchange rates are relative prices."
Read more: Any Intervention to Weaken Dollar Seen Futile Amid Funding Woes
The dollar smile theory, which Jen came up with in the early 2000s when he was at Morgan Stanley, suggests that the greenback tends to appreciate both when the U.S. economy is outperforming and when it's in a recession or the financial system is under great stress.
Market positioning right now is on the left side of the dollar smile because of extreme risk aversion, Jen argues. But he expects the U.S. to lead the rebound given its economic momentum at the start of February, which outpaced Europe and even some emerging-market nations.
"In terms of the dollar smile, we could jump from the left side to the right side without hiccups," said Jen. "The dollar thus has a good chance of staying strong over the next three months as much of the rest of the world suffers."