The Hamptons Set Sweats; Wilbur Ross Says Economy Is Humming
(Bloomberg) -- Our Body Electric, a new fitness company offering live and on-demand classes filmed in a studio in Dumbo, Brooklyn, came to the Hamptons Saturday.
Could sweat get any sweeter? On an expansive lawn at a home in Bridgehampton, about a hundred lithe people found a perch for a sculpt class by Megan Roup, who called out her workout of dance cardio, lunges and leg kicks in front of a wall of greenery and white roses.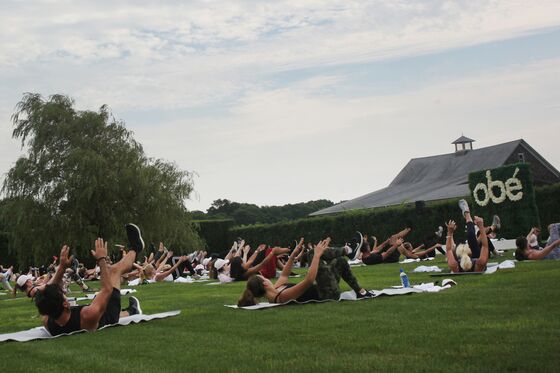 Amy Griffin, the former volleyball star married to John Griffin, took a shady spot under a tree, while Casey Fremont, head of Art Production Fund, public relations maven Alison Brod, and Fiona Rudin, chairman of the theater-focused nonprofit The New 42nd Street, were front and center in the sun.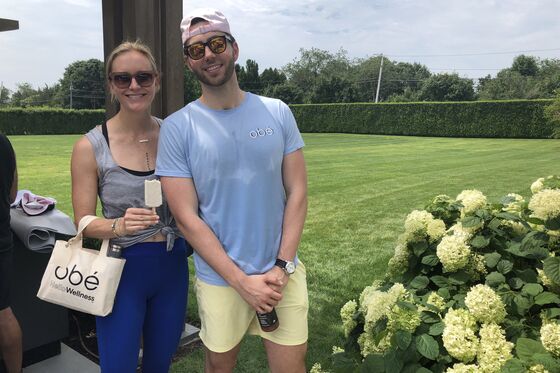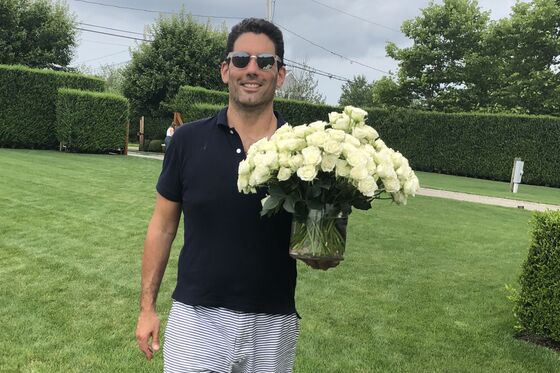 The hosts were obé co-founder Mark Mullett and Forbes Family Trust CEO Keith Bloomfield, who made sure everyone felt at home. Food Network chef Katie Lee used the outdoor shower to cool off afterward. Mullett invited anyone who wished to jump in the pool.
The poolside treats were more enticing. Griffin partook in a coconut-flavored Paleo Passion Pop.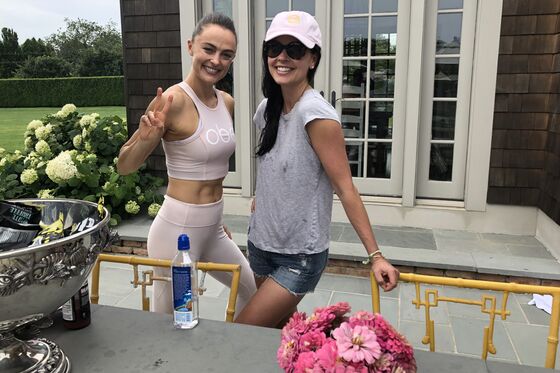 That night at the Watermill Center benefit, Blackstone's Martin Brand, MSD Capital's Glenn Fuhrman and Otcex's Yan Assoun got some exercise too, walking around in a forest on the property to see performance artists at work, including one kicking her legs out of a rainbow-colored pouf. The piece was titled "Lonely" by Icelandic artist Hrafnhildur Arnardóttir, also known as Shoplifter.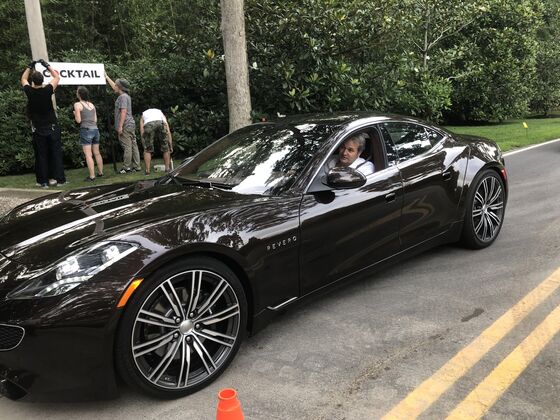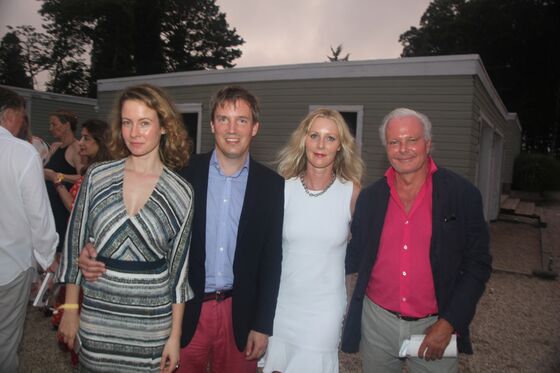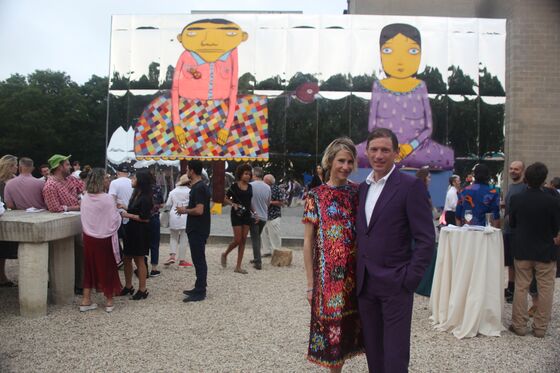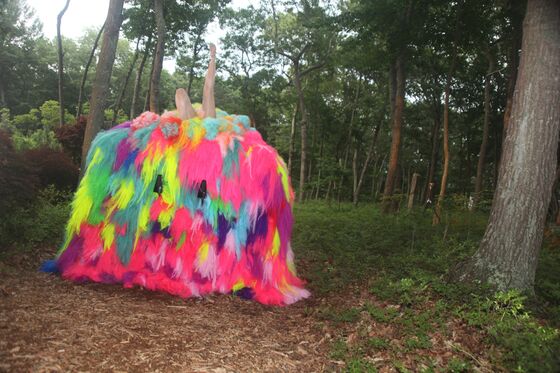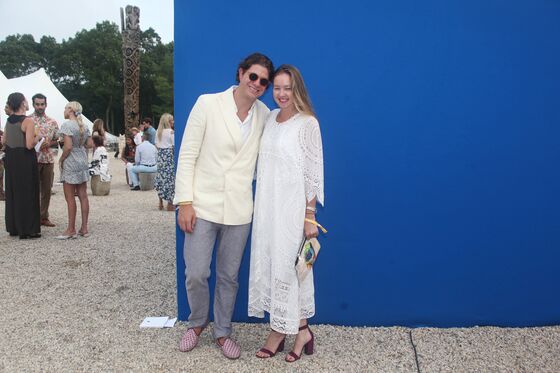 The event raised $2.2 million with help of a live auction. Performance artist Marina Abramovic stipulated how bidders would have to prepare for an evening with her: "For three days before, you can't have sex, you can't have television and you can't talk about Trump," she said. It included dinner and went for $40,000.
At the Southampton Arts Center on Friday night, Secretary of Commerce Wilbur Ross said the economy is going to stay strong. "It may not always be 4 percent, but it's sustainable, slow growth," Ross said. As for Facebook founder Mark Zuckerberg's $16 billion personal wipe-out last week: "I can't compete with that, and you know what, I don't even want to."
Architect and designer Peter Marino, who used to play tennis with Ross, was opening an exhibition of his art collection in Southampton. Front and center: a copper and bronze sculpture of a chicken-footed cabbage.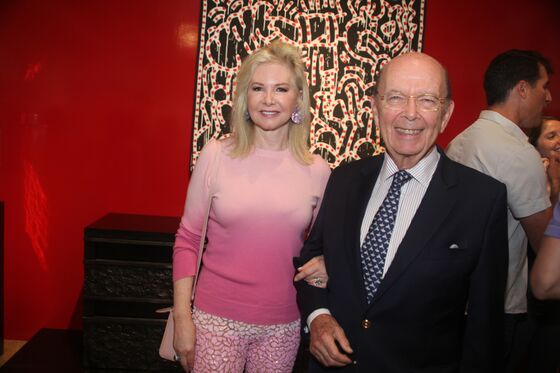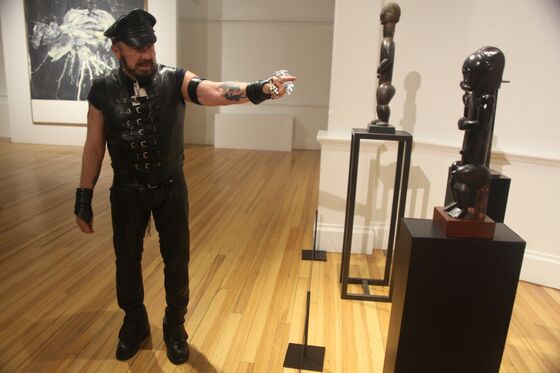 Later, alongside an earthy brown textured Anselm Kiefer painting, Marino announced he bought the building next to the Southampton Arts Center to turn it into a "Frick-like" museum called the Peter Marino Art Foundation to show his art.
Marino said he got the idea from Blackstone's Tom Hill, for whom he's designing a private museum in Manhattan's Chelsea neighborhood.
"I learned a lot from Tom," Marino said. "The thing that he told me is when you make an art foundation, the government requires that a certain amount of effort be made for education."
But Marino didn't follow Hill's lead to the letter. He's not building from scratch -- he bought an 1895 Victorian Gothic structure, the original Rogers Memorial Library, and will start construction next year, restoring historic elements and revamping parts that have already been gutted. "Do people really want to see a fuddy duddy?" he said. "No, but do they want to go through two rooms that have real Tiffany silver and a real Tiffany fireplace, and then go and see Kiefer."
And he's found a partner for education programs in the Southampton Arts Center.
"Tom, he has to do everything alone," Marino said. "The way I'm doing it, it's a little easier."
At the opening, Marino shared the spotlight with the arts center co-chair, Simone Levinson, as her husband recalled his own Zuckerberg-like moment.
"My worst day was $500 million, the day that Lehman Brothers collapsed, and I made it all back times two," said David Levinson, CEO of L&L. Lehman was a real estate partner of his at 200 Fifth Ave., home of Eataly. He got the Lehman estate to finish the project, and wound up buying its share back at a discount, he said. He also bought Facebook stock last week.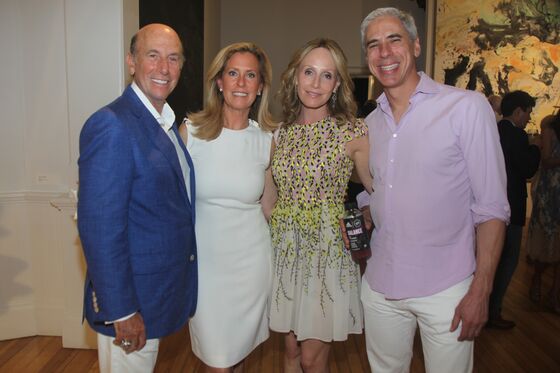 Michael Karsch of Hunter Peak Investments said his worst day involved Premier Parks, whose share price tumbled in 1998 not long after it acquired Six Flags. "I was at Soros, I'd just gone to visit a bunch of parks and I thought I understood how business was, and it turns out I was totally wrong," Karsch said. "But I made money shorting the stock a few years later, so I learned form my mistake."