The Fed Should Consider Lowering Rates
(Bloomberg Opinion) -- Nobody is expecting any major news from this week's policy-making meeting at the Federal Reserve. That's unfortunate, because the Fed should be considering more stimulus for a U.S. economy that has long failed to meet its goals for employment and inflation.
In January 2012, the central bank set an explicit inflation target of 2 percent. In the subsequent seven years, its preferred measure of consumer prices — the Commerce Department's price index for personal consumption expenditures, excluding food and energy — has consistently fallen short of that target: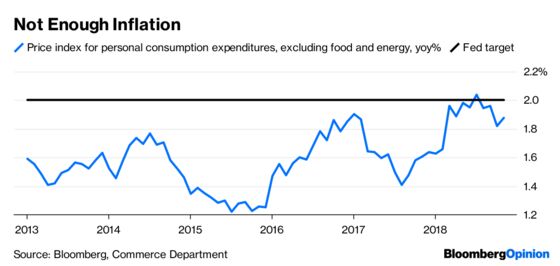 Financial market expectations of longer-term inflation, too, have been persistently low: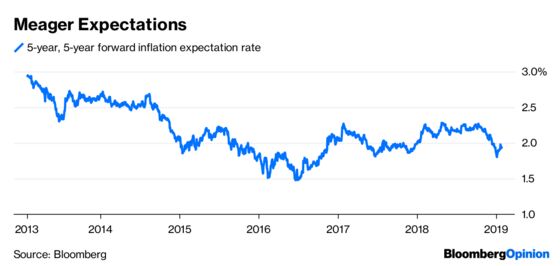 The Fed's performance on employment hasn't been much better. True, the unemployment rate is hovering near a multi-decade low. But it measures only those people who are actively looking for work. A broader measure — the percentage of prime-age workers with jobs — tells a different story. It has been below its 2000 and 2007 peaks for more than 10 years: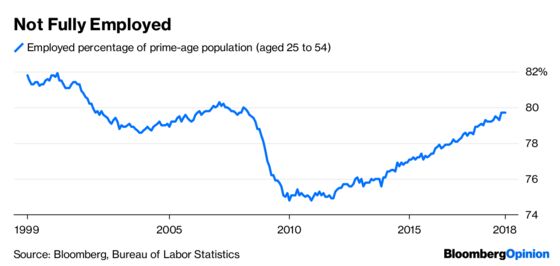 So the Fed has been falling short — arguably well short — of both its inflation and employment mandates for a long time. How can it do better? It should take two steps.
First, as I've argued before, the Fed shouldn't be reducing the vast holdings of bonds that it amassed in its efforts to stimulate the economy after the last recession. Instead, it should commit to increasing its asset holdings by about 4 percent per year. That way, as the economy grows over time, its balance sheet will remain sufficiently large to help combat any recessionary risks.
Second, the Fed often says that it sets monetary policy based on the incoming economic data. Such claims ring hollow when we look at the record. Recently released transcripts from its June 2013 policy-making meeting show that more than half the participants thought inflation would be below 2 percent for the next 30 months. All thought unemployment would stay above 5.5 percent. Yet it was precisely at that meeting that they agreed to begin tightening by announcing their intention to ease off on bond purchases in the near future.
The Fed should actually start being data-dependent, as opposed to talking about being data-dependent. With a potential slowdown coming in both U.S. inflation and global growth, that means thinking about lowering interest rates rather than increasing them.
This column does not necessarily reflect the opinion of the editorial board or Bloomberg LP and its owners.
Narayana Kocherlakota is a Bloomberg Opinion columnist. He is a professor of economics at the University of Rochester and was president of the Federal Reserve Bank of Minneapolis from 2009 to 2015.