Fed May Be Quietly Masking Extent of Efforts to Calm Repo Market
(Bloomberg) -- Wall Street sleuths are wondering whether the Federal Reserve is quietly doing more to calm the U.S. repo market than just the headline-grabbing liquidity injections that have captivated observers for months.
The New York Fed runs something called the foreign reverse repo pool, a place where other nations' central banks can park cash. The amount outstanding has shrunk by 18% since peaking at $306 billion in mid-September.
A reduction fits with the Fed's goal of building up reserves in the banking system to keep the repo market orderly following the tumult of three months ago. Wrightson ICAP's Lou Crandall and Bank of America strategist Mark Cabana suspect the Fed might be intentionally driving institutions away from the RRP program.
"It smells to me that it's a little more Fed-driven," Cabana said in a phone interview.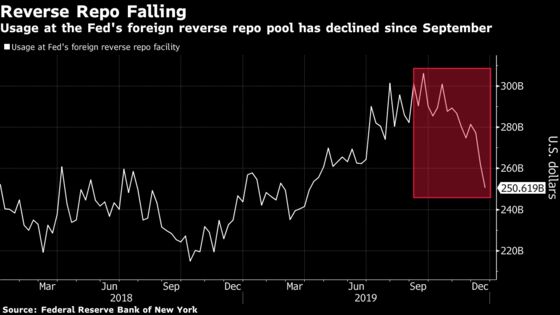 When foreign central banks tap the foreign reverse repo pool, it sucks reserves out of the system, working against the central bank's efforts to replenish the supply. One of the reasons why repo went haywire three months ago is that reserves, or banks' excess cash parked at the Fed, got too scarce.
As a result, the central bank began temporarily replenishing reserves via overnight and term repo operations, as well as by buying $60 billion a month in Treasury bills. Monday's 15-day action that spans the end of the year was undersubscribed, the second straight operation to come in under the amount on offer -- a possible sign that year-end funding pressures have eased.
But next year will test whether the Fed can end its interventions without chaos re-emerging. Chairman Jerome Powell recently said the Fed isn't trying to eliminate all volatility from markets. However, if the repo market is erratic, it signals the Fed doesn't have good control over the financial system's plumbing. That's something policy makers and the broader market can't tolerate.
In the past year, Crandall and Credit Suisse analyst Zoltan Pozsar have advocated for the Fed to cap the interest rate on the foreign RRP, as a way of deterring institutions from parking cash at the Fed and draining reserves.
However, it may be too early to tell whether the drop is a result of the New York Fed changing the parameters of the program, or a change in foreign central bank behavior, according to Crandall. The Fed might have reduced the interest rate, making foreign RRP less appealing, he said. That figure, last published a month ago, is only released quarterly.
The New York Fed declined to comment.
"We don't know whether the decline in the level of the pool reflects a change in the terms of the program or is just a response to the change in market conditions," Crandall wrote in a note published last week. "The Fed eventually will revise the program's parameters to make it less generous and we cannot completely rule out the possibility that it has already quietly done so behind the scenes."