The EU Was Born on an Italian Island. Even People There Want Out
(Bloomberg) -- Staring grimly at the deserted island harbor, Ciro Alleati is clear where to lay the blame for the lack of business on Ventotene. "We need to get out of the euro and out of the EU," said Alleati, 65.
That's a provocative view from an outpost regarded as the wellspring of the European Union. It's here, a two-hour ferry ride from Naples, that anti-fascist Altiero Spinelli was sent into exile by Italy's wartime dictatorship, and where in 1941 he drafted what became known as the Ventotene Manifesto.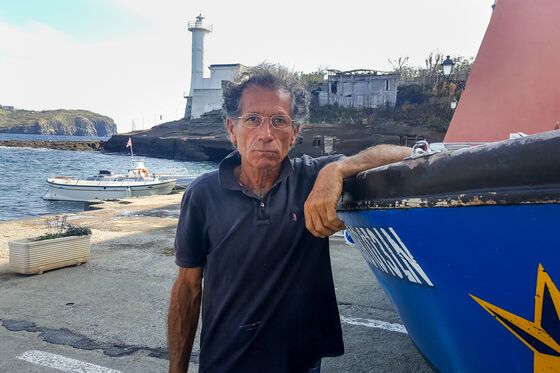 Hand-written on cigarette paper with fellow activist Ernesto Rossi, the manifesto called for "the grandest creation" the continent had seen in centuries: "a free and united Europe" to prevent conflict and blunt the slide into totalitarianism driven by nation states. Spinelli went on to campaign for European integration after the war, and is revered as a founding father of what is now the European Union.
Today, that legacy is under attack. Nationalists from Paris to Budapest are challenging the EU's fundamental values and questioning the bloc's validity. What's more, Spinelli's European vision is being trampled on in his Italian homeland, one of the bloc's six founding nations.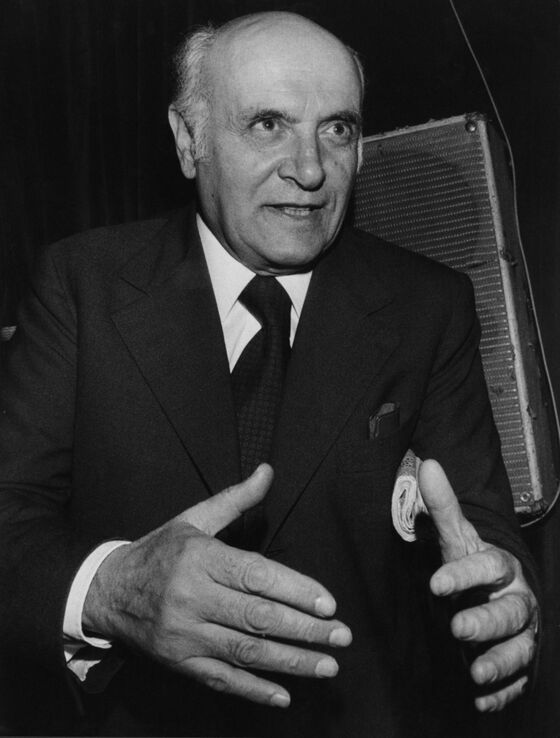 The populist government that took office in June is defying European budget rules, accuses the EU of abandoning Italy to deal with immigrants from across the Mediterranean, and regularly denounces "Brussels" for tying the country's hands. Just 44 percent of Italians would vote to stay in the EU in a Brexit-style referendum, the lowest score of any member state, according to a Eurobarometer survey published Oct. 17.
For Alleati, the owner of a boat-rental firm who recalls carrying the urn with Spinelli's ashes to the island's cemetery, the dream of European solidarity has long since faded. "The longer Italy stays in, the more we'll be squashed by Brussels and Germany and France," he said.
Two-time Italian Prime Minister Romano Prodi, a former head of the European commission, says that Italy's journey from founding member to leading EU critic can be traced to a shift in power away from the commission—the EU's executive body—to European leaders that coincided with the economic and euro-area crises after 2008. Decisions were taken then that opened up a rift between north and south, and the strongest states prevailed, notably Germany with its preference for austerity to tackle government debt.
"Italy found itself among the weakest countries," said Prodi. Now, shouldering below-average economic growth, an unemployment rate of some 10 percent compared to the euro-zone's 8 percent, and a debt mountain second only to that of crisis-ravaged Greece, "Italians see themselves as the victims of decisions taken by others," he said.
That sense of victimization is evident across Europe in electorates that are shifting behind nativist and protectionist parties, from Sweden to Poland, Austria and the U.K., where anti-immigration sentiment is credited with swinging the 2016 vote in favor of Brexit. It's at the fore of next May's elections to the European Parliament, which are likely to be a showdown between the liberal establishment as represented by French President Emmanuel Macron and the nationalist forces of the likes of Hungarian Prime Minister Viktor Orban.
In Italy, Matteo Salvini and his anti-migrant League are firmly in Orban's camp. Salvini and Luigi Di Maio of the anti-establishment Five Star Movement leveraged a shared EU skepticism to become unlikely coalition allies after March elections.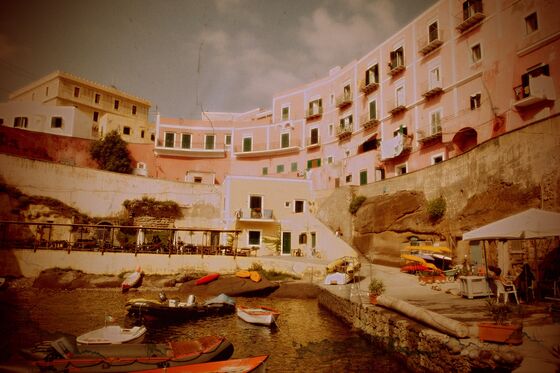 Still, Ventotene Mayor Gerardo Santomauro has no patience for Salvini or Di Maio, whom he accuses of using attacks on the EU as "weapons of mass distraction" to avoid "dealing with people's real problems." He advocates a "United States of Europe" with a directly-elected commission president to make citizens feel closer to the EU.
Yet Santomauro, 48, who leads a cross-party alliance with the center-left Democratic Party as the biggest force, is also critical of the EU. His appeal for funds to create a center on the island that would teach EU values to visiting schoolchildren from across the bloc was rejected this year. "The bureaucrats of the commission forget that they owe their jobs to Spinelli," he said. "The EU has done nothing for Ventotene."
The volcanic island in the Tyrrhenian Sea has a history of banishment: Augustus, the ancient Roman emperor, dispatched his daughter Julia there to punish her for adultery. Caligula sent his sister to Ventotene for plotting against him.
The practice was revived by the fascists under Benito Mussolini. Spinelli's mugshots and finger-prints, taken by the wartime police, hang on the walls of the mayor's office alongside a hand-written note branding Spinelli an "irreducible and fanatical subversive." In 2016, German Chancellor Angela Merkel and French President Francois Hollande accompanied then-Italian Premier Matteo Renzi to Ventotene to lay a wreath to Spinelli.
Past associations don't necessarily translate into present opportunities, and the truth is Ventotene's world is shrinking. Its population is down to less than 700 permanent residents of which only some 200 live there all year, as both tourism and fishing suffer from the impact of a long recession. The island has an emergency room but no hospital, and teenagers have to move to the mainland to finish their schooling.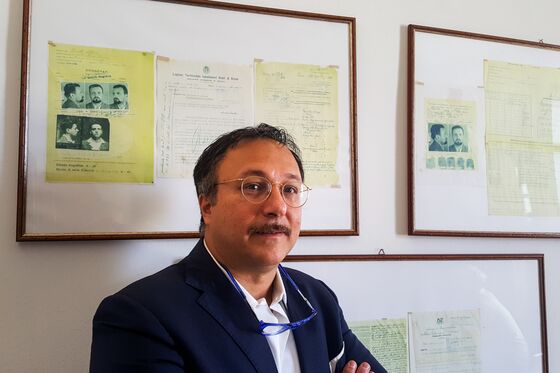 Chiara Pennacchio, 20, who returned to the island to work in the hotel run by her family, last voted for the Democratic Party but hasn't yet decided who she will back next May. "Italy has been abandoned, but we need to change the EU from inside," Pennachio said. Her friend Gloria Giglio, 23, may vote for Five Star "but only if they don't take Italy out of the EU."
The European elections have special resonance for Ventotene: Spinelli served as an MEP until his death in 1986, and the parliament building in Brussels bears his name.
Gianluigi Musella, 23, was born on the island and identifies with the EU ideal envisioned by Spinelli—but not with the reality. A cook in the summer and a mason in the winter, he's thinking of moving to the other side of the world to get a steady job. "Europe should mean a future for us young people, but there's more work for us in Australia," he said. "For me, the European Union is Spinelli, it's not Brussels."