Brussels Edition: A Middle Eastern Quandary
(Bloomberg) -- Welcome to the Brussels Edition, Bloomberg's daily briefing on what matters most in the heart of the European Union.
If you had to spell out the European Union's take on Iran and Libya, it would be this: Once all the parties have blown off enough steam, they'll come to their senses, realize that conflict is futile and sit down to talk. Naive as it sounds, Brussels has been preparing for that moment. It has been careful to keep channels of communication open with everyone and is using any clout it has to push for dialogue, believing it is ideally placed to act as a broker. Whether this is a sensible policy stance remains to be seen. But given the resources member states are willing to commit to staying relevant and divisions between them, it's not like the EU has a panoply of options. 
Motion Sickness | Industrial production and trade data showing the impact on the economy of Germany's car-industry turmoil are due today. A minor rebound might provide some relief after an unexpected drop in factory orders and faltering regional jobs growth expectations cast a gloomy shadow over the euro area entering the new year.
Brexit Clash | Boris Johnson and Ursula von der Leyen set out rival red lines for their visions of a post-Brexit deal. It was the first clash of a negotiation set to be thornier than the fraught talks to secure Britain's divorce from the bloc. 
Low Rates | Senior euro-area finance ministry officials will discuss the impact of low interest rates when they meet in Brussels today to prepare for their ministerial gathering later this month. Don't expect any fireworks, but there may be rumblings from countries that have already voiced concerns about the ECB's negative interest-rate policy last autumn. 
Macron Blow | Fallen automotive titan Carlos Ghosn tacitly blamed Emmanuel Macron for provoking his demise by trying to lock Nissan into its alliance with Renault two years ago. That's another headache for the French government as it seeks to offer the former Renault chief some support while also trying to shore up the Franco-Japanese auto alliance.
Fiscal Call | In her first public remarks this year, ECB President Christine Lagarde pushed for greater coordination between the region's policy makers, arguing that a joint fiscal push would help jump-start the sluggish economy. That follows a flurry of data at the start of the year showing a mixed outlook amid a manufacturing slump and uncertainties including the U.S.-China trade war and Brexit.
No Hike | Riksbank Governor Stefan Ingves signaled that the bank's decision to raise its main rate to zero last month won't be followed by more tightening for a very long time. His remarks come after Sweden's central bank made clear it was determined to end a policy of negative interest rates, bringing relief to its financial industry and providing a test case for counterparts around the world.
New Route | Airlines around the world including Air France-KLM and Lufthansa diverted flights from the airspace over Iran, Iraq and the Persian Gulf after Tehran fired more than a dozen missiles at U.S. forces in the region. The decision to reroute planes to avoid conflict zones can add to flight times and increase fuel consumption, raising costs and increasing emissions. 
Hot Earth | The last five years on Earth have been hotter than at anytime since the industrial revolution kicked off almost two centuries ago. This latest data by Europe's Copernicus Climate Change Service comes as wildfires continue to ravage Australia, and highlights the rapid changes that the Earth's ecosystem is undergoing as a result of man-made carbon emissions. 
Royal Escape | Forget Brexit. Queen Elizabeth II's grandson, Prince Harry, and his American actress wife, Meghan Markle, said they'll "step back" from their royal roles and "work to become financially independent," spending more time living in the U.S.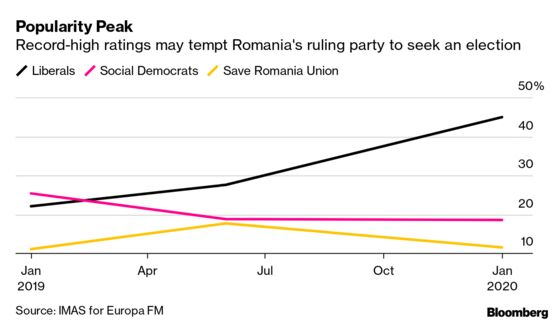 The popularity of Romania's ruling Liberal Party jumped to a record high, bolstering the case for the minority government to seek a first-ever snap election. While not impossible, the path to a vote could be tricky, with the opposition Social Democrats resisting because their own fortunes have worsened. 
9 a.m. Joint press statement by Commission President von der Leyen and Romania's Ludovic Orban
11 a.m. Eurostat to release November unemployment reading
EU diplomats meet in Brussels to discuss situation in the Gulf
Von der Leyen, together with the College of Commissioners, participates in the opening ceremony of the Croatian Presidency of the Council of the EU
U.K. House of Commons expected to ratify Brexit agreement