The Brexit Threat to World Markets Remains Too Huge to Ignore
(Bloomberg) -- Never mind the dwindling no-deal odds and the almost desperate political optimism of recent days: For investors who remember the vortex that sucked in markets from Tokyo to Toronto three years ago, a hard Brexit remains a tail risk which is simply too big to ignore.
The hope is still that Britain can strike a divorce agreement with the European Union which preserves trade ties and averts the kind of global market crash that accompanied the 2016 U.K. referendum. But the political dramas since then underscore the uphill battle facing negotiators, especially given Prime Minister Boris Johnson's precarious hold on power.
Among the low-probability but high-impact risks cited by investment banks and investors: Europe tipped into recession, a Scandinavian currency sell-off and a rout of emerging markets.
"A Halloween horror show could catch markets by surprise," said Mark Dowding, the chief investment officer at BlueBay Asset Management in London. "A no-deal outcome would be highly disruptive and likely to have market impact which would potentially extend beyond Europe."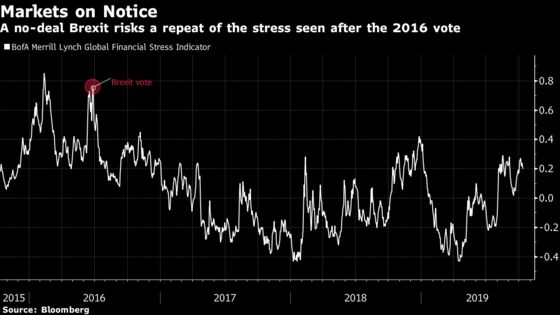 Like most asset managers interviewed for this article, Dowding sees a no-deal exit by the end of this month as highly unlikely. After the two sides agreed on Friday to begin a more detailed phase of talks, betting odds of a no-deal scenario playing out at all this year dropped below 15%.
Yet Brexit has already been spurring a quiet kind of global contagion. Real-money foreign investors keep snubbing European stocks thanks in part to political risk in the region, including dramas emanating from the U.K.
"The rule of thumb that we have followed as global investors in the last three years has generally played out," said Alessio de Longis, a New York-based multi-asset fund manager at Invesco. "The further you are away from Europe and U.K in terms of assets, the less the impact."
The tentacles of U.K. markets are long: $2 trillion of its public and private debt was held overseas in 2018, according to data from Nomura International Plc. Nearly one-third of U.K. gilts are in the hands of non-domestic investors. And there's more than $2.3 trillion of foreign claims on U.K. banks.
That doesn't include the potential disruption in Britain's $3.7 trillion a day interest-rate derivative market, nearly half of which is denominated in euros. While the clearing side has been ring-fenced, and many banks have contingency plans in place, it's hard to completely rule out unintended consequences in complex markets.
"Both sides can prepare as much as they can, but with these things, it's the unexpected that turns a bad situation into something worse," said Jordan Rochester, a currency strategist at Nomura in London. "Day One of Brexit won't necessarily have the worst-case scenarios played out. But over days and weeks, the impact starts to become very visible."
If Britain does crash out, the first-order effect would be on the pound. Some banks, including Morgan Stanley, estimate the British currency could fall by around a fifth to reach parity with the dollar under a hard Brexit. Sterling's vulnerability has been on full display in recent trading sessions: It surged last week on hopes for a deal, before slumping on Monday as the EU said Boris Johnson's latest proposals lack detail.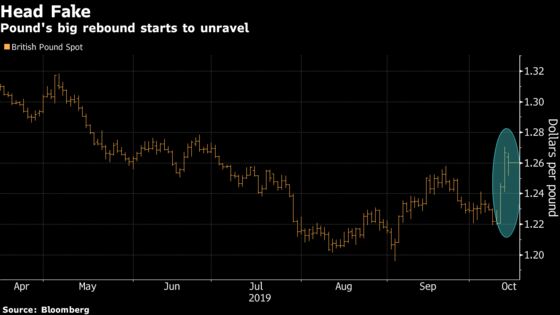 At Societe Generale SA, Lorenzo Bini Smaghi is worried. Last week at a Bloomberg conference the French bank's chairman described a hard Brexit as a "systemic event" with the potential to push the global economy into recession.
Bank of America Merrill Lynch economists see a 40 basis-point hit to euro-area GDP next year if a no-deal scenario happens, heaping pain onto an already struggling region.
That would put growth-sensitive currencies such as the Norwegian krone and the Swedish krona at the mercy of a no-deal shock. The euro is also exposed, though demand for the common currency for funding purposes by investors selling riskier assets may help cushion its fall, according to Morgan Stanley.
"Europe is already flirting with recessions," said Nikolaos Panigirtzoglou, a global strategist at JPMorgan Chase & Co. "Even if we get a Brexit deal, there are other risks still looming related to trade wars, the auto sector and lack of policy traction."
Should a European downturn take hold, it would threaten to wake up credit premiums which have long been depressed by monetary stimulus. That would echo the 2016 breakout, when spreads of euro-denominated company bonds tracked sterling peers higher.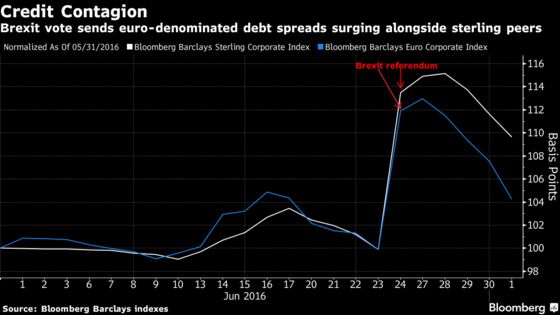 Knock-on effects would likely be seen in the markets for hard-to-trade private debt and alternative assets, and funds that have gorged on such investments could be stuck with holdings they can't shift.
Meanwhile in the stock market, Bank of America Merrill Lynch reckons there's a potential 8% downside for European shares in a no-deal scenario.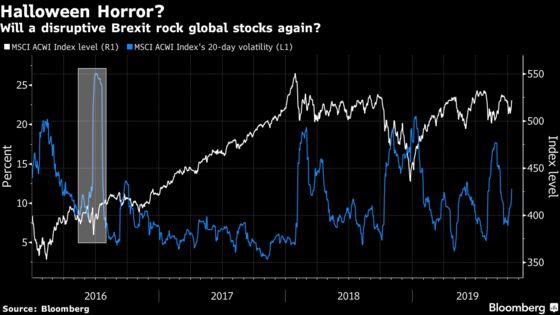 And the shock waves would spread further afield. Investors putting a premium on safety would likely penalize emerging-market equities most vulnerable to a global slowdown, according to Tina Byles Williams, Philadelphia-based chief executive officer at FIS Group.
"To the extent that you have a Brexit moment, that would exacerbate the decline in global trade growth and by extension undermine emerging-market asset prices," said Williams.