The Amazon for Brexit Helps Britons Stockpile in Four Clicks
(Bloomberg) -- From peanut butter to baked beans to the once-banned spirit absinthe: This online shopping service has everything Britons need to survive a no-deal Brexit, in four clicks.
Users of brexitprepping.com can select their "level of Brexit angst," from "a little concerned" to "pretty worried" to "properly panicking." The site then creates a personalized Tesco shopping order to help a household of four stockpile food and drink from one week to three months.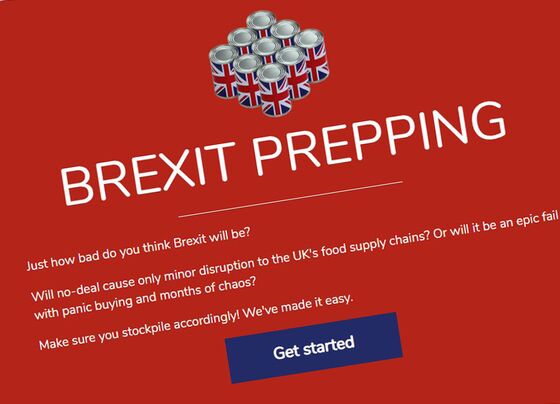 The site was created by authors Ben Carey and Henrik Delehag with digital developer Joe Hall, who say they're unaffiliated with campaigners for or against Brexit, or with any supermarket. "The idea was to make people realize what we are getting into, by turning stockpiling from a last-resort activity for the paranoid into a normal online service that everyone needs," they said in an emailed response to questions. About 1,250 users have been to the site since it went live Monday.
One week's stockpile costs roughly 111 pounds ($143), one month 459 pounds and three months 1,415 pounds. "A Brexiteer like Jacob Rees-Mogg might choose option one, for example, but a full-blown Remainer like Anna Soubry would want option three," the site's creators said, referring to two Conservative members of Parliament. Labour Party leader Jeremy Corbyn "could hedge his bets with option two."
One notable feature on the shopping list for the "properly panicking" is the amount of alcohol: 31 bottles of whisky, vodka, wine and absinthe. This "is to help deal with the stress of Brexit chaos," the London-based creators said. Tesco, the U.K.'s largest grocer, was picked because it sells 136-proof Pernod absinthe, essential for anyone trying to deal with the months of civil unrest that may ensue from a no-deal departure, they said.