Thailand Seeks More Than $2 Billion in Auction of 5G Spectrum
(Bloomberg) -- Follow Bloomberg on LINE messenger for all the business news and analysis you need.
Thailand will auction spectrum for fifth-generation mobile services on Sunday in a sale that may generate more than $2 billion.
The National Broadcasting & Telecommunications Commission has said it expects firms to snap up as many as 28 of the 56 licenses available. That would be worth 64 billion baht ($2.1 billion) at reserve prices.
| Frequencies | Licenses | Reserve Price (Baht) | Qualifying Bidders |
| --- | --- | --- | --- |
| 700 MHz | 3 | 8.79b | Advanced, True, CAT |
| 1,800 MHz | 7 | 12.49b | None |
| 2,600 MHz | 19 | 1.86b | Advanced, True, CAT |
| 26 GHz | 27 | 423m | Advanced, True, Total Access, TOT |
The agency has said the goal isn't to maximize revenue but instead to spur investment in faster data connections. The three private-sector firms --Advanced Info Service Pcl, True Corp. and Total Access Communication Pcl -- and two state-run operators -- CAT Telecom Pcl and TOT Pcl -- are taking part.
The telecommunications agency sees an economic benefit of 476 billion baht by 2022 from the fifth-generation roll out, up from an estimated 177 billion baht -- equivalent to about 1% of gross domestic product -- this year.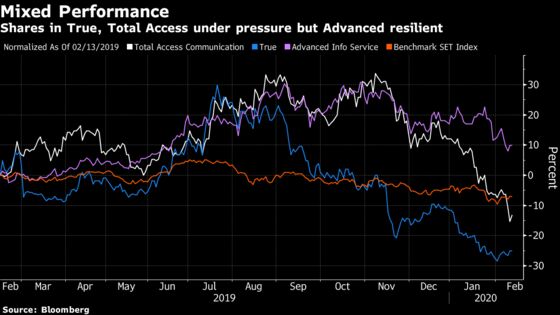 "I see 5G as a burden overall," said Maria Lapiz, Bangkok-based head of research at Maybank Kim Eng Securities (Thailand) Pcl. "Despite the lack of an economic case, the government is keen to push the 5G roll out. This will increase telecommunication companies' debt burden and impact profitability."
Advanced Info Service is the best placed financially of the three private-sector carriers to add spectrum and provide new services, she added.
Operators around the world have spent billions of dollars in fifth-generation auctions, suggesting robust demand for faster speeds.