Thailand Likely to Hold Rates, Cut GDP Outlook: Decision Guide
(Bloomberg) -- The Bank of Thailand is expected to keep its benchmark interest rate unchanged at a record low to accommodate a fragile economic recovery, while cutting its growth forecast to factor in the country's biggest wave of Covid cases yet.
All 25 economists surveyed by Bloomberg expect the central bank to keep the policy rate at 0.5% for a ninth straight meeting Wednesday. The Monetary Policy Committee will also release its new economic forecasts for this year and next.
The government has eased Covid-19 restrictions in Thailand's capital and plans to fully reopen the country to foreign tourists within four months, while vaccinating the majority of citizens. Prime Minister Prayuth Chan-Ocha said last week the country needs to take a "calculated risk" of reopening because of the economic situation.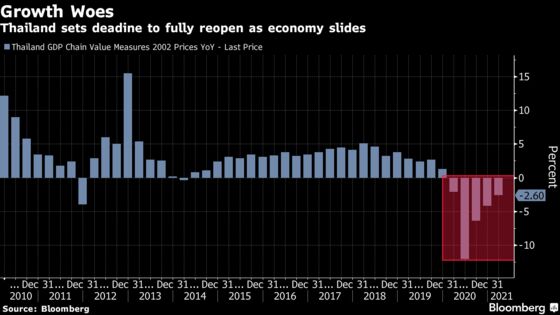 "The central bank will likely save its limited policy bullets for now as the economy is at its turning point," said Nattaporn Triratanasirikul, an economist at Kasikornbank Pcl's research unit. "If vaccinations proceed as planned over the next few months, the economy will likely pick up in the fourth quarter and next year. But things remain highly uncertain, so the central bank needs to be prepared."
Here's what to look for in Wednesday's decision:
The central bank will likely cut its forecast for 2021 gross domestic product growth from the 3% predicted in March, following a 2.6% contraction in the first quarter of the year. The state planning agency lowered its own forecast last month, now expecting GDP to grow 1.5%-2.5% this year, down from 2.5%-3.5% in February. The Finance Ministry cut its own GDP forecast to 2.3% in April.
Since the latest wave of Covid cases began in early April, infections have spread from Bangkok nightclubs to the city's crowded communities, prisons and construction-worker camps, as well as to other parts of the country. Thailand has added more than 190,000 Covid cases since then, and the death toll since April 1 alone has surpassed 1,500. As of June 20, about 11% of the population had received at least a first dose of anti-Covid vaccine.
What Bloomberg Economics Says...

"The Covid-19 curve is flattening, vaccinations are accelerating and Phuket is reopening. For the year, our view remains for a 2.3% expansion."

-- Tamara Mast Henderson, Asean economist

To read the full note, click here.
After tightening restrictions again amid the outbreak, the government this week began allowing more economic activities in high-risk areas, though businesses such as pubs and gyms remain closed.
Fiscal measures will be a key driver for the economy while the central bank focuses on targeted policies to encourage banks to restructure customers' debts and lend to smaller companies. On June 1 the government approved economic stimulus measures worth 140 billion baht ($4.4 billion) to bolster the economy, including cash handouts and co-payment programs. Parliament this month approved a $16 billion borrowing plan to meet fiscal needs.
The central bank earlier announced a limited debt moratorium until year-end to help small and medium-sized businesses hurt by the outbreak, and will decide later this year whether to extend lenders' obligatory contribution to a bailout fund for financial institutions.
Chronic concerns about the baht have eased this year as it has weakened against the dollar, in line with other emerging-market currencies. The baht is down almost 5.6% against the dollar year-to-date, making it the second-worst performer in Asia tracked by Bloomberg. That helps support exports, which have been the key economic driver this year, rising 13.1% in April from a year earlier.
At its last meeting May 5, the central bank said it would continue monitoring developments in foreign-exchange markets and capital flows, and would consider whether additional steps were needed to make sure exchange rate movements don't hinder the recovery.