Thailand Expects a Record 41.1 Million Foreign Tourists in 2019
(Bloomberg) -- The number of tourists coming to Thailand will hit a record 41.1 million in 2019, the country's government said.
Arrivals are projected to climb about 8 percent from last year's 38.3 million, the Tourism Ministry said in a briefing Monday in Bangkok. To put that in perspective, the flood of arrivals exceeds the population of Canada.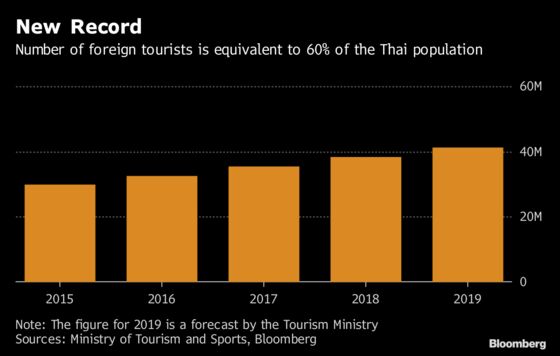 Chinese tourists are returning after a slowdown sparked by a tour boat tragedy that triggered concerns about safety standards. The number of Chinese holidaymakers rose 2.8 percent in December from a year earlier, to 838,634.
Chinese visitors are the top source of foreign receipts in an industry that makes up about a fifth of the economy. Tourism is a key engine of growth, but managing the influx is a challenge amid pressure on the environment as well as clogged international airports.
"The 41 million is a projection from the current trend," Tourism Minister Weerasak Kowsurat said at the briefing. "If we actually really reach that level, I'll have a headache."