Bank of Thailand Holds Rate, Lowers Outlook on Tourism Slump
Thailand's central bank held its benchmark rate unchanged Wednesday, signaling a need to preserve policy space as the country grapples with its biggest wave of Covid cases and a weakening outlook for the tourism-reliant economy.
The Bank of Thailand's rate setting committee unanimously decided to hold rates at a record low of 0.5% for a ninth straight meeting, as expected by all 25 economists in a Bloomberg survey.
The committee "stands ready to use limited policy space at the most-effective timing," Bank of Thailand Assistant Governor Titanun Mallikamas said. "Loans and debt restructuring will be more targeted to help businesses and households than lowering interest rates."
The central bank also trimmed its forecast for 2021 gross domestic product growth to 1.8%, from 3% previously, citing the precipitous decline in tourism during the pandemic. The government plans to fully reopen Thailand's borders to foreign visitors in October, taking a calculated risk to boost the economy.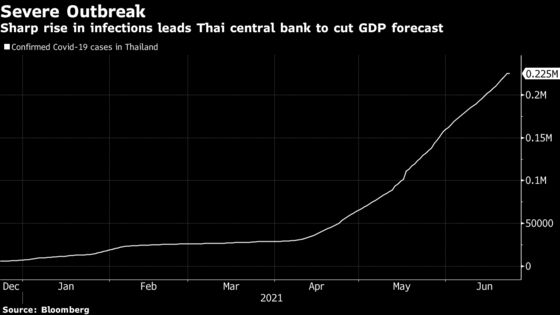 The baht continued falling after the meeting, down 0.4% to 31.85 to the dollar as of 4:32 p.m., while the benchmark stock index closed down 0.4%.
Prime Minister Prayuth Chan-Ocha this week moved to allow more social activity in the capital, even as Covid-related fatalities reached a record Wednesday. About 11% of the population had received at least a first vaccine dose as of Monday.
The vaccination campaign will be key for the economy, Titanun said at a briefing in Bangkok. Any recovery in the labor market will be slower than in the past, and could be W-shaped -- rather than a smooth rebound -- as the market is more fragile now.
"The crux for Thailand is really quite straightforward -- how quickly it can vaccinate its people," said Howie Lee, an economist at Oversea-Chinese Banking Corp. in Singapore. Reaching 100 million doses this year would mean stepping up the current pace by about 80%, but "supply constraints are the biggest challenge to attaining this holy grail."
Thailand's urgency in reopening stems from its reliance on tourism, which contributed about one-fifth of economic output before the pandemic. The Cabinet on Tuesday gave final approval for the Phuket "sandbox," which will allow quarantine-free travel for vaccinated visitors to the popular tourist island from July 1.
What Bloomberg Economics Says...

"The Bank of Thailand's unanimous hold on rates, despite sharp cuts to already-soft growth projections, suggests significant reluctance to deplete its remaining 50 basis points of conventional policy space or deploy QE. We don't expect any more rate cuts during this cycle."

-- Tamara Mast Henderson, Asean economist
The 1.8% growth forecast is based on an assumption that the new wave of Covid cases will be contained by the end of the third quarter and the country will reach herd immunity early next year, Titanun said in response to further queries.
"The key question is the procurement and distribution of vaccines to reduce economic risk, especially during the turning point over the next four to six months," he said. "The government's current vaccine plan has made some progress, but the economy still faces risks from a possible severe outbreak both locally and overseas from mutated variants and lower vaccine effectiveness."
The bank's GDP downgrade follows similar moves from the finance ministry and the country's main economic planning agency. The government on June 1 approved fresh stimulus measures worth 140 billion baht ($4.4 billion), including cash handouts and co-payment programs. Parliament this month approved a $16 billion borrowing plan to meet fiscal needs.
"The government should accelerate the disbursement of relief and other fiscal support measures" and address vulnerabilities in the labor market, Titanun said. "Meanwhile, monetary policy must remain accommodative."
The central bank earlier had announced a limited debt moratorium until year-end to help small and medium-sized businesses hurt by the outbreak. It will decide later this year whether to extend lenders' obligatory contribution to a bailout fund for financial institutions.
"We believe room to remain accommodative will narrow as global central banks move closer to normalizing monetary policy," Standard Chartered Plc economist Tim Leelahaphan said. "The key challenge for the Bank of Thailand over the next 12 months will be to maintain a relatively loose stance to support the domestic economy against a changing global monetary policy backdrop."
Other key points from Wednesday's briefing:
The central bank cut its 2022 GDP forecast to 3.9%, from 4.7% expected in March
Forecast for tourist arrivals this year, already cut repeatedly, was lowered again to just 700,000, from 3 million previously expected. The bank projects 10 million tourists next year, less than half the previous forecast
The bank says the baht, down 6% against the dollar this year, is weaker than other regional currencies
The bank expects headline inflation of 1.2% this year and next
The bank forecasts a current-account deficit of $1.5 billion this year, compared to the $1.2 billion surplus expected earlier
The bank raised its export forecast this year to 17.1% growth, from 10%, and now expects imports to grow 22.7%, up from 15.2% earlier