Thai Capital Starts Vaccine Bookings as Deaths Reach Record
(Bloomberg) -- Thailand's coronavirus epicenter Bangkok has opened registration for Covid-19 vaccines to millions of residents ahead of a mass-inoculation rollout from next month as authorities battle the nation's deadliest wave of the outbreak since the pandemic began.
More than 7 million Bangkok residents from 18 to 59 years old can book their vaccine appointments online via websites or a mobile application, and in person at many convenience stores starting Thursday. It's the first time people in that age group could register for inoculations after the government earlier prioritized senior citizens, people with underlying conditions, those in areas with high rates of infections, or communities in areas preparing to reopen for tourism this year.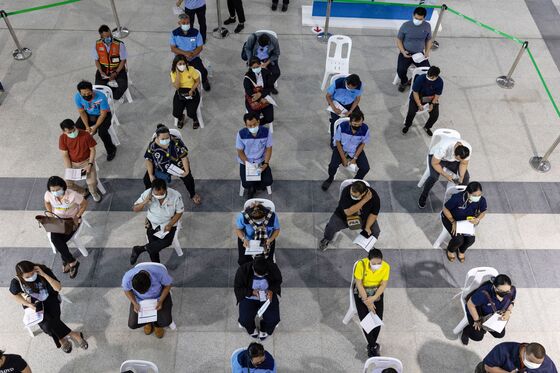 Since a Covid-19 resurgence in early-April, infections have spread from Bangkok's night-entertainment venues to the city's crowded communities, prisons and, most recently, construction-worker camps. The Southeast Asian nation on Thursday reported 3,323 new cases, with 47 deaths marking the highest single-day increase since the pandemic began. Total cases have more than quadrupled since April 1, with cumulative deaths up more than ninefold.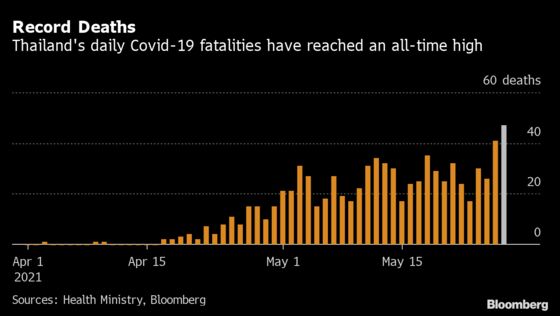 More than 1.2 million residents registered for the vaccine on Thursday, the first day of the registration. All appointments for the first shot will be made from June 7, the first day of the mass rollout, through to the end of July. City officials aim to inoculate at least 5 million people, or 70% of residents, within the next two months.
"We're prioritizing Bangkok because it's the capital and the largest city. If we can't contain the outbreak here, we risk spreading infections to other parts of the country," Pongsakorn Kwanmuang, spokesman for the Bangkok Metropolitan Administration, said late Thursday, adding that the volume of registrations is "much higher than expected."
Thailand's inoculation deployment has been slow due to limited supplies of serums from AstraZeneca Plc and Sinovac Biotech Ltd. Some 3.2 million doses of vaccines have been administered, with about 3% of the population receiving at least one shot, Health Ministry data showed. About 7% of residents in Bangkok have had their first injection.
The country's biggest opposition party, Pheu Thai, on Thursday criticized the government's handling of the outbreak, saying that the administration "failed in both public-health and economic measures." Former Finance Minister Kittiratt Na Ranong said planned economic-recovery and relief packages were "too little and too unreasonable."
This week Prime Minister Prayuth Chan-Ocha's government unveiled a 500 billion baht ($16 billion) borrowing plan to fund to new stimulus. Danucha Pichayanan, secretary-general of the National Economic and Social Development Council, said on Thursday that the government is planning new measures to "give oxygen" to small businesses and help them retain workers.