Thai Air Gets Creditors' Backing for Debt Restructuring Plan
(Bloomberg) -- Thai Airways International Pcl's creditors approved the airline's debt restructuring plan, paving the way for payment extension and unpaid interest waiver on at least 170 billion baht ($5.41 billion) of its debt.
The plan was backed by 91% of creditors at an online meeting, Kitipong Urapeepatanapong, chairman of Baker & McKenzie in Bangkok, the airline's legal adviser, said by phone on Wednesday. Five people have been appointed as its administrators including acting Chief Executive Officer Chansin Treenuchagron and former CEO Piyasvasti Amranandthe, Thai Airways said in a statement after the meeting.
"The creditors' approval offers Thai Airways an opportunity to continue its business," the airline said. "It will also enable the airline to maintain its competitiveness in the aviation market."
The airline in March proposed a three-year freeze on loan payments and a deferment of bond repayments for six years. To help it return to profitability after posting a record loss of 141 billion baht last year, Bangkok-based Thai Air also plans to cut its workforce by half, sell property and is seeking to raise 50 billion baht in new capital.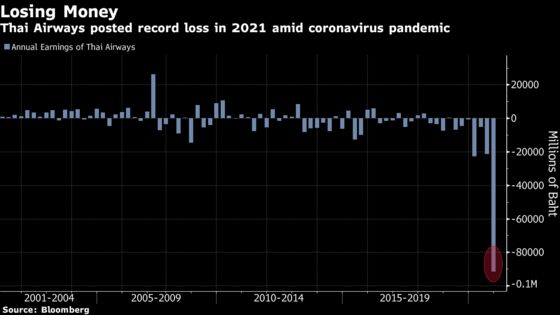 There were some changes to the original debt proposals but not too many, Kitipong said. These include allowing some creditors to convert their debt into equity. The bankruptcy court will meet on May 28 to consider the creditors' vote for final approval.
The issues faced by the airline have become more acute as the country has been hit by its deadliest outbreak of the coronavirus so far. Thailand this week slashed its growth outlook for this year, citing a delay in reopening borders to foreign tourists and slow vaccination. New cases reached a record this week, prompting a government's plan for additional borrowing of 700 billion baht to fund new stimulus.
While Prime Minister Prayuth Chan-Ocha has rejected calls to extend direct financial support to Thai Air, the finance ministry as the airline's largest shareholder has pledged its support for the restructuring plan. A lack of government support may make it difficult for Thai Air to survive the current slump in global aviation, according to Shukor Yusof, founder of aviation consulting firm Endau Analytics.
"I don't think any national carriers in this region can survive without significant government support as well as 3-4 years extension to their aircraft leases," Yusof said. "The flare up in infections is certainly working against the creditors too. The longer the pandemic goes the less chance creditors and lessors have of getting their money back."
Thai Airways isn't alone in trying to get debt relief as mass flight suspensions globally have decimated the travel industry.
Virus Surge Renews Financial Strain on Airlines: SEAsia Credit
Thai Airways has already challenged some $7.4 billion in claims from dozens of aircraft lessors and engine service provider, saying it isn't liable for the monies because they concern future expenses and were incurred after the airline received bankruptcy protection.
Thai Airways shares had rallied 67% this month before they were suspended by the exchange on Tuesday, citing its negative equity as a possible ground for delisting.