Texas Power Supply Depends on Natural Gas Flow No One Tracks
(Bloomberg) -- For two consecutive winters, cold weather has caused Texas gas production to plunge but the size of those drops depends on who you ask. Days after the most recent chill, state regulators said just 2% of output was lost although independent researchers contend it was more than triple that. 
Why the discrepancy? Despite being the biggest supplier and consumer of gas in the world's largest economy, Texas doesn't track production outages in real time. That can be a big problem for the electric grid, which relies on the 24/7 flow of gas to keep the lights on.
During the cold snap less than two weeks ago, fuel-supply issues forced more than 1 gigawatt of electricity offline, enough to potentially darken 250,000 homes, according to Texas' main grid operator. Last winter, when a days-long freeze gripped the Lone Star state and crippled gas output, millions were blacked out for almost a week and hundreds died.
These once anomalous extreme events are becoming the status quo as climate change upends weather patterns, a reality that most grid U.S. operators now take into account in operational planning. But Texas has been slow to respond to this peril, despite the fact that gas underpins more than half of the state's electricity generation. 
The lack of real-time data on well outages is a particular problem in Texas because many of its power plants can't operate without a constant flow of gas. Unexpected interruptions can quickly shutter a generating station, halting electricity flows to consumers. Yet the state's primary regulator doesn't require drillers to immediately disclose when output falters, and the production data the state does collect is usually months old: as of late Wednesday, the most up-to-date production figures released by regulators were for October.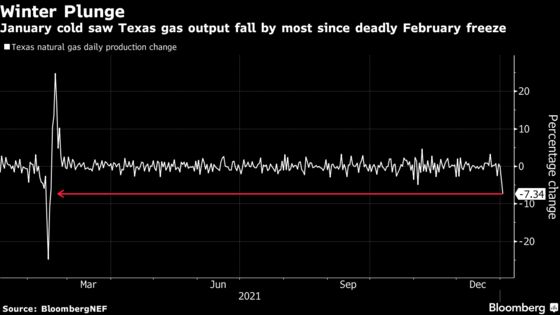 "There's a murkiness to the gas market," said Michael Webber, a professor at the University of Texas in Austin.  "That's the way it's set up. There's not a lot of justification for this other than a sort of an inertial laziness — that the current system benefits the producers."
The confusion comes amid escalating anxiety in the U.S. and abroad about the sufficiency and resiliency of gas supplies to stave off the coldest months of the northern hemisphere winter. Benchmark American gas futures have soared 30% since the end of 2021 for the strongest start to any year since they debuted on the New York Mercantile Exchange more than 30 years ago.
While last year's deadly freeze provoked calls for more market transparency and precautions against extreme weather, neither have yet occurred. The Texas Railroad Commission, which has overseen the state's oil and gas production for more than a century, has until March 2023 to  adopt weatherization standards for gas producers, although lawmakers made provisions to allow some drillers to opt out. The commission didn't respond to a request for comment for this story. 
In the days leading up the February 2021 catastrophe, meteorologists warned of an imminent arctic freeze, prompting some generators to line up backup fuel supplies and harden their stations against the cold. Many, however, were caught flat-footed when gas deliveries ceased without warning and the railroad commission had no information on the depth or potential duration of the supply cuts.
Apart from the dearth of information on field outages, Texas doesn't require intrastate pipelines to disclose flows -- a key data point for power providers trying to lock in fuel supplies. That means generators don't have a clear sense of what's happening across the gas system, from flows to prices, until they receive a force-majeure notice.
"They're essentially flying blind because they don't know what's happening on that market," said Michele Richmond, executive director of the nonprofit group Texas Competitive Power Advocates. "The only way for them to get any of that information would be to file a lawsuit, challenging that force majeure and go through the discovery process."
When a Jan. 2-3 cold blast knocked out some production, the agency wasn't able to quantify the scope of the outages — eventually relying on commercial, third-party data to extrapolate a much-lower decline than even the industry later reported. Citing analysis from S&P Global Inc., the commission said in a post-storm statement that the output drop "accounts for 2% of Texas' daily production."
That clashed with separate figures from IHS Market Ltd. and BloombergNEF that showed a production decline of at least 7%, the biggest dip since the February disaster. Fortunately, this month's chill was short-lived, the grid remained well supplied and Texas avoided any sort of widespread blackouts.
Gas production rebounded to normal as soon as temperatures moderated, a fact that the Railroad Commission cited to support its conclusion that "there was seemingly no apparent significant impact on the market or energy production."
But had the chill persisted for several days, as it did during the event 11 months ago, the impacts could have been far more marked. 
"We were able to maintain power this past cold snap," said Richmond. "But overall, the lack of transparency is the concern, because you don't know when an event is going to be mild or when it's going to be extreme."