Teva Sells Record $5 Billion of Sustainability-Linked Bonds
(Bloomberg) -- Teva Pharmaceutical Industries Ltd., one of the largest generic-drugmakers in the world, sold a record $5 billion in bonds tied to environmental, social and governance targets.
The company, through its finance units, raised the funds in U.S. dollar and euro denominated bonds on Tuesday after the offering was upped by $1 billion, according to a person with knowledge of the matter. The longest portion of the four-part deal, a euro-denominated 8.5-year security, yields 4.375%, after initially being marketed in the high 4% area, the person said.
"The upsizing of the issuance is a testament to the demand for ESG-linked bonds," Bloomberg Intelligence analyst Mike Holland said in a telephone interview Tuesday. "It certainly doesn't hurt that this deal is wrapping up on the same day that Teva, along with J&J and Endo, have their first win in California."
Superior Court Judge Peter Wilson in Santa Ana on Monday rejected claims that units of J&J, Teva, Endo International Plc and Abbvie Inc.'s Allergan Plc duped doctors and patients about the addictiveness of opioid painkillers and created a so-called "public nuisance" tied to the medications.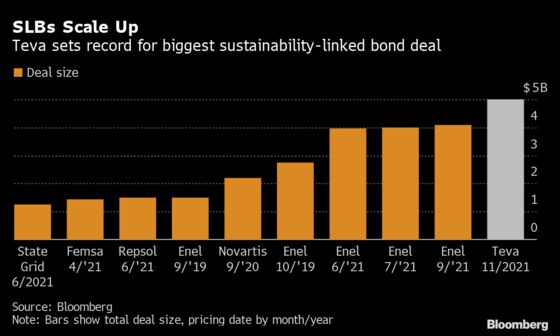 Proceeds from the bond sale together with cash on hand will fund a $3.5 billion tender offer announced last week for a series of notes maturing through 2024, according to a statement. Proceeds will also be used to pay back outstanding debt upon maturity or earlier redemption and for general corporate purposes.
"The company has been guiding for a large liability management exercise for some time but concerns around litigation risks had thrown a wrench in the gears for them to be able to do a regular bond financing," said Holland.
The bonds are linked to the firm's efforts to boost access to medicines in low and middle-income countries by 150% and new climate action targets, including a 25% reduction of Scope 1 and 2 greenhouse emissions by 2025 from a 2019 baseline. The target doesn't include its Scope 3 emissions, which cover its supply chain and the use of its products and usually constitute the majority of a company's footprint.
More companies are issuing sustainability-linked bonds, or SLBs, which can be used to fund just about anything provided issuers pledge to meet certain social or environmental thresholds, such as cutting carbon emissions firm-wide. Global sales of the bonds are at a record $125 billion so far this year. That compares with just $16 billion issued in the whole of last year.
"Companies have noticed the signaling effect that sustainability-linked bonds offer," Deutsche Bank AG analysts led by Luke Templeman wrote in a report Tuesday. "This has become particularly important to show investors that the company is serious about its ESG goals."