Tenreyro Suggests Bank of England Can Wait to Move on Rates
The Bank of England should wait before raising interest rates as inflationary pressures are likely to wane, policy maker Silvana Tenreyro said.
Disruptions to global supply chains are likely to prove "temporary," and acting too quickly could even "have a disinflationary impact" on longer term price pressures, the external member of the BOE's Monetary Policy Committee said.
The comments reinforced Tenreyro's position as a dove on the nine-member panel and did little to shift expectations for a rate increase next week. Financial markets have moved quickly to anticipate a sharp increase in borrowing costs that may bring the base rate up to 1.25% from the current 0.1% by the end of 2022.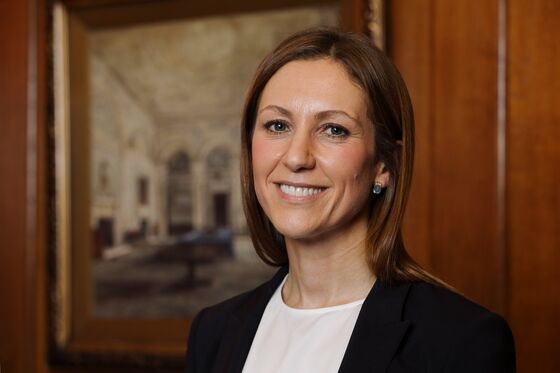 Tenreyro said she'd prefer to wait before taking action, saying she wants to see more wage data for evidence of persistent price increases and signs of how what influence the end of the government's furlough program has on the labor market. 
"The literature on unemployment benefits, which are comparable in effect to the furlough scheme, would suggest that furlough has been boosting underlying wage growth," she said in the text of a speech release by the BOE on Monday. "Its withdrawal could put this process into reverse."
The BOE has warned that inflation is likely to rise above 4%, with new chief economist Huw Pill warning that price growth could even breach 5%. Tenreyro also said:
The nature of the supply chain disruption will determine whether inflation will be more long lasting
Says previous surges in energy often delivered a one-off increase in inflation and that monetary policy can't offset an increase in energy prices
"Some of these, such as base effects and the direct impact of energy price rises, are short-lived, and monetary policy can do little to offset them: much of the effect of policy would not come until after their impact had faded."
"If the effects of supply-chain disruption on CPI inflation are short-lived, then attempting to use monetary policy to offset them would only serve to add additional volatility, since the effects would be fading by the time policy was having a major impact on inflation."
"Higher energy prices may reduce households' real incomes and depress spending, with additional risks stemming from the prevalence of Covid in the U.K., and falls in income for any furloughed workers who move out of employment."