New Telecom Italia Boss Deepens Activist Shareholder's Clout
(Bloomberg) -- Telecom Italia SpA's decision to name Luigi Gubitosi as its new chief executive officer marks another victory for Elliott Management Corp. in its push for a radical overhaul of the embattled phone company.
The board, stacked with directors representing billionaire Paul Singer's fund, chose the former Merrill Lynch banker at a meeting on Sunday. Gubitosi succeeds Amos Genish, who was ousted last week for resisting the activist's call for a spinoff of the landline network. Bloomberg reported on Saturday that Gubitosi was set to become CEO.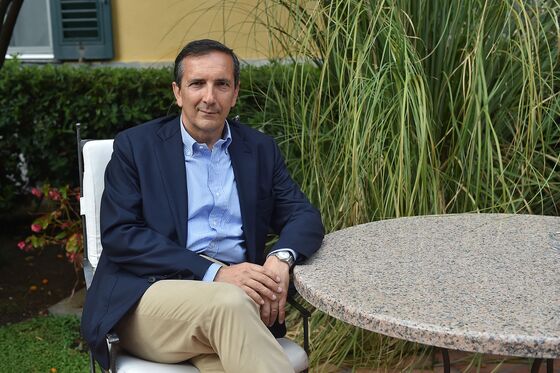 The appointment entrenches Elliott's influence and deals a blow to Telecom Italia's largest shareholder, Vivendi SA, which opposes ceding control of the grid and was against Genish's removal. Gubitosi, 57, is the fifth CEO of the former phone monopoly in five years and has the momentous task of restoring stability while a fight between the company's two biggest investors threatens further upheaval.
The new CEO takes the reins at a company weighed down by net debt of 25 billion euros ($29 billion) and heavy pension liabilities. The carrier hasn't paid a dividend on its ordinary shares since 2013 and must now also shoulder heavy investments in new networks. The arrival of French rival Iliad SA into Italy has also plunged the market back into a price war, reducing revenue for incumbents. Telecom Italia shares have declined 25 percent this year.
"Gubitosi's most important challenge will be giving Telecom Italia a strong, clear mission and direction," said Massimo Magni, an associate professor of management and technology at Milan's Bocconi University. He compared Telecom Italia to a "a giant, drifting ship" as shareholder tensions escalate.
The stock rose 3.2 percent at 11:50 a.m in Milan on Monday.
The five Telecom Italia directors aligned with Vivendi -- including Genish, who remains on the board -- voted against the appointment, according to people familiar with the matter. Gubitosi abstained from voting while the other nine directors loyal to Elliott supported him, said the people, who asked not to be identified as the details aren't public.
A representative for Elliott declined to comment.
Gubitosi's tenure at Telecom Italia risks being cut short if Vivendi tries to win back control. The French media conglomerate can request an extraordinary general meeting of shareholders to propose a new slate of directors, given its voting power.
A spokesman for Vivendi said the board will have to call a shareholders meeting in any case to elect new auditors, giving an opportunity for investors "to decide on one of two strategies: dismantling, as Elliott wants, or a medium-term industrial strategy."
In a statement, Genish vowed to "accelerate" a shareholder meeting. "Any decision to break up the company, including losing control of the fixed network, must go back to the shareholders for a vote," he said.
Gubitosi, a corporate turnaround specialist among directors installed by Elliott at Telecom Italia in May, is considered influential in Rome political circles. That may give him an edge with the Italian government, which is pushing for a single fixed network as a way to boost investment in fiber. He led Telecom Italia's mobile rival Wind Telecomunicazioni SpA and state-owned television network Radiotelevisione Italiana SpA before the government made him special administrator of bankrupt airline Alitalia last year.
"Telecom Italia has a great history," Gubitosi said in Rome after the board meeting, according to a company spokesman. Telecom Italia can win market share, increase cash flow and look quickly at creating a single landline network, Gubitosi said.
The Italian government likes the idea of a grid spinoff. The government is working on a proposal for a regulated grid monopoly -- including a merger between Telecom Italia's network and wholesale rival Open Fiber SpA -- that would spur the buildout and takeup of high-speed internet by keeping returns predictable, according to people with knowledge of its thinking.
While a legal separation of Telecom Italia's grid from the rest of the company is already in the works to encourage fiber investment, the government's plan also includes giving the regulator the power to potentially force the carrier to relinquish ownership control of the network, said the people, who asked not to be identified as the discussions are private.
The vulnerability of Italy's biggest phone company left an opening for Elliott. The fund emerged in March calling for asset sales and improved corporate governance in a direct criticism of the stewardship of French media conglomerate Vivendi, which owns a 24 percent stake.
Elliott, with 8.9 percent of Telecom Italia's shares, won the backing of other investors to overthrow Vivendi's hold on the board two months later and appointed 10 directors, with Vivendi naming the other five. Italian state lender Cassa Depositi e Prestiti SpA, with a 4.9 percent stake, was crucial in helping Singer's fund win by voting for its slate of directors. The removal of Genish followed months of disagreement between Elliott and the Israeli former army captain, who Vivendi made CEO in September 2017.
Telecom Italia's share performance since Elliott took over the board -- a decline of 36 percent -- has left the carrier with a market value of just 11.1 billion euros. That could make the company a possible takeover target, according to Francesco Vatalaro, a telecom professor at the University of Rome Tor Vergata.
"If I were Gubitosi, the first thing I'd do would be implement strategies to protect the company against a possible hostile takeover," Vatalaro said by phone.