Tech Stocks Rebound From Drop Though Negative Drivers Remain
(Bloomberg) -- Technology stocks rose on Wednesday, posting a partial rebound from a bruising three-day decline, though analysts said further volatility and losses are likely.
The S&P 500 information technology index rose as much as 1.7 percent, while the communication-services group -- which includes such stocks as Facebook, Netflix, and Google-parent Alphabet -- gained 2 percent at its intraday peak.
Such groups have tumbled over the week, with major Internet and semiconductor companies leading the broad and steep decline to multi-month lows. The tech index dropped more than 2 percent on Tuesday, building on Monday's 3.8 percent decline. The three-day retreat was the worst since February for the index, which currently sits about 15 percent below an early October record.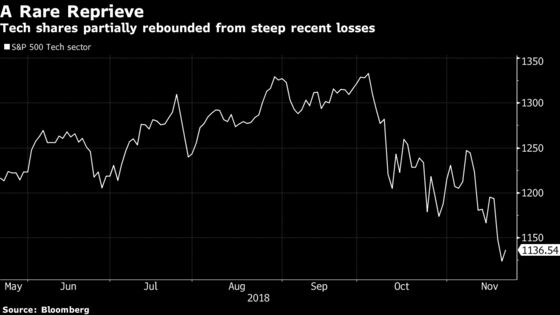 There were no clear catalysts for Wednesday's moves, with analysts instead pointing to the scale of the recent losses.
"It's likely that this is a bounce back after a big decline, rather than the start of a long-term upward trend," said Mark Grant, chief global strategist at B. Riley FBR. "We're still facing higher interest rates, tariffs with China, and what could be a significant problem in Italy. So while I'd like to think this is a trend that will continue, I'm not rushing in to be a buyer just yet."
Tech stocks have been under pressure since early October, with much of the weakness driven by third-quarter earnings. A number of bellwether stocks -- including Amazon.com Inc., Alphabet, and numerous chipmakers -- gave disappointing revenue outlooks that pointed to slowing growth.
So far this week, Apple has dropped 8.2 percent, putting it on track for its biggest weekly drop since April 2016. Netflix is down 7 percent and chipmaker Nvidia Corp. is down 12 percent, tracking for its third straight weekly decline.
Analysts argued that the issues sparking the sell-off haven't gone anywhere, and that one of the most damaging narratives in the sector -- signs of waning demand for Apple's iPhones -- was strengthened further when Bloomberg reported Foxconn Technology Group, the biggest assembler of the products, was planning to cut nearly $3 billion in expenses in 2019.
"We've had two very difficult days, so you could say that this is just a relief bounce, though the reason those days were so tough haven't changed," said Varkki Chacko, chief investment officer of Credit Capital Investments. "We do think a number of companies are very well managed and deserving of a higher valuation, but in the case of Apple there has been a very specific reason to step back."