Tech's European Nemesis Is Now Targeting Banks
(Bloomberg) -- Margrethe Vestager has been a thorn in the side of the Silicon Valley giants, imposing back taxes on Apple Inc. and Amazon.com Inc. and fines on Facebook Inc. and Google. Now, as she approaches the end of a five-year term as the European Union's top antitrust enforcer, the Danish politician is making sure bankers will remember her, too.
Vestager's teams sent antitrust charge sheets to at least eight banks in two separate cases, little more than one month apart, over suspected collusion in trading government bonds. The EU's antitrust arm is also likely to impose billion-euro fines in the coming months on lenders over the rigging of foreign-exchange trading, and has shown interest in the syndicated-loan market.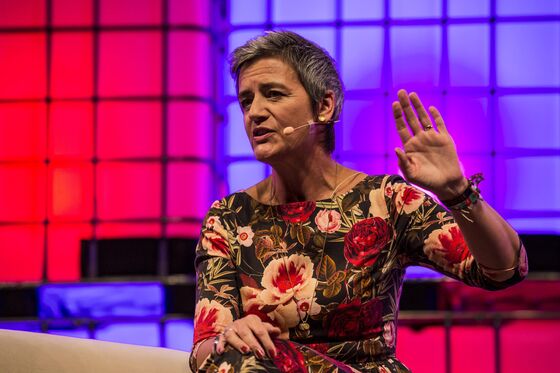 A European Commission statement Thursday didn't identify the institutions being investigated for "a collusive scheme that aimed at distorting competition" in trading sovereign bonds issued by euro-region governments from 2007 to 2012. The renewed focus on banks may be more an outcome of work begun by Vestager's predecessor than a last-minute emphasis on the financial sector, said Adrien Giraud, an antitrust lawyer at Latham & Watkins LLP.
"There was clearly a political impetus to go after the banks shortly after the onset of the financial crisis" a decade ago, Giraud said in an interview. The reason these cases are coming to a head now, he said, is that such probes are technical, requiring an understanding of markets, and take time to process.
Vestager made her name on the world stage by imposing a 13 billion-euro ($15 billion) tax bill on Apple and fining Alphabet Inc.'s Google, twice, for a total of about 6.7 billion euros. Banks were relatively unscathed during her tenure, by comparison: Just one antitrust penalty, with three institutions sharing a combined fine of less than half a billion euros for rate-rigging.
In the Thursday announcement, the EU alleged that traders exchanged commercially sensitive information and coordinated trading strategies, mainly via online chat rooms, in the estimated $9.4 trillion market for European government debt.
The euro-region bond probe is the third EU investigation that could lead to large fines for banks. The commission last month sent objections to Deutsche Bank AG, Credit Suisse Group AG and Credit Agricole SA over a suspected cartel dealing in secondary trading of supranational, sub-sovereign and agency bonds denominated in dollars. Credit Suisse was also targeted over a foreign-exchange cartel last year, a case that other banks are seeking to settle. Such settlement can reduce potential penalties.
"The European Commission has widened the net to the euro-denominated market and stepped up the process by several gears" with this action, said Simon Hart, a partner at RPC in London. "The investment banks may have hoped they had put allegations of market manipulation behind them after Libor and FX, but a new front appears to be opening up."
The EU imposed 1.49 billion euros in antitrust fines in 2013 in the Libor scandal, which involved traders swapping information on trading positions and future submissions to fix the London inter-bank offered rate.