Tech Investors Put Faith in Amazon for Lift After Facebook's Rout
(Bloomberg) -- Tech investors are pinning their hopes on Jeff Bezos after disappointing earnings sank shares of megacap peers Facebook Inc. and Netflix Inc.
With the success of Amazon.com Inc.'s fourth Prime Day sale fresh in their minds, Wall Street analysts expect positive results from the company's second-quarter report Thursday afternoon. The e-commerce giant's two premiere segments -- Amazon Web Services and advertising -- should show continued strength, and "a healthy consumer spending backdrop in the U.S." will be good for the retail business, according to Stifel analyst Scott Devitt.
Amazon's track record backs the investor optimism. The company has exceeded estimates for earnings per share in seven of the past 10 quarters and topped revenue expectations in eight of the prior 10 periods. The shares have followed suit, climbing 56 percent this year and putting the Seattle-based retailer on a path to a trillion-dollar valuation.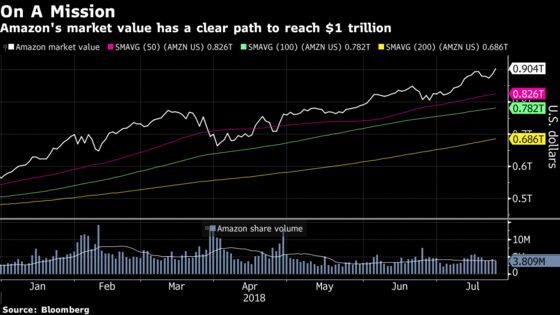 Amazon's "strong performance has not gone unnoticed," Monness Crespi Hardt analyst Brian White said in a research note on July 23, although ad revenue "remains a swing factor" after surprising investors in the first quarter. White expects Amazon Web Services will be the segment with the fastest growth in the second quarter.
Also in focus for the second-quarter results are the company's grocery business, lapping its purchase of Whole Foods last year, and its fulfillment capabilities. Most of Wall Street is bullish on the stock, as only three of the 55 analysts covering the company have a hold-equivalent rating, and none recommend selling, according to data compiled by Bloomberg.
Amazon enthusiasts continue to one-up each other by steadily increasing their price targets -- lifting the average almost 50 percent since the beginning of the year, pacing the climb in the shares. Yet there are still risks to the bull case as the retail hub has garnered the attention of President Donald Trump, who has aimed numerous tweets at Bezos with threats of increasing costs charged by the U.S. Postal Service.
"We recognize the concerns, however modest, regarding potential for higher near-term investment in fulfillment facilities, last mile delivery, international markets, AWS, as well as any regulatory actions and the likelihood of the USPS raising rates," Deutsche Bank analyst Lloyd Walmsley wrote in a note. Overall, Walmsley believes these headwinds "are far outweighed" by tailwinds including Amazon's large and expanding transparent ad marketplace, recent acquisitions, and expansions into Brazil and Australia.
Amazon's far-reaching goals continue to affect a multitude of industries, most recently hitting the health-care sector with its $1 billion purchase of startup pharmacy PillPack. This year alone, Amazon has been a disruptive force in grocery, home security and prescription drug distribution. There has been speculation that the company could enter other markets at any moment -- targeting the likes of asset managers, insurers and mortgage underwriters.
Second-quarter total revenue $53.35 billion (range $52.52 billion to $54.09 billion); Amazon in April forecast $51 billion to $54 billion
Second-quarter GAAP EPS $2.49 (range $1.53 to $3.09)
Second-quarter operating income $1.71 billion (range $1.31 billion to $1.95 billion)
Third-quarter total revenue $58.03 billion (range $55.63 billion to $59.77 billion)
Third-quarter operating income $1.28 billion (range $652 million to $2.33 billion)
Implied 1-day share move following earnings: 5.4%
Shares rose after 8 of prior 12 earnings announcements
Shares up 0.7% in past 5 days vs SPX Index up 1.3%
Earnings release expected 4:01pm (NY time)