Tech Group Favors Privacy Bill That Preempts Tougher State Laws
(Bloomberg) -- A new privacy bill proposed by Senator Marco Rubio, which would override more restrictive state laws, is winning support from a Washington-based technology trade group that counts Alphabet Inc.'s Google, Facebook Inc. and eBay Inc. as members.
The Florida Republican's legislation would impose a national privacy standard and supersede tougher data-protection regulations that will take effect in California in 2020. It would also preempt measures that consumer groups are pushing in multiple states, including Washington.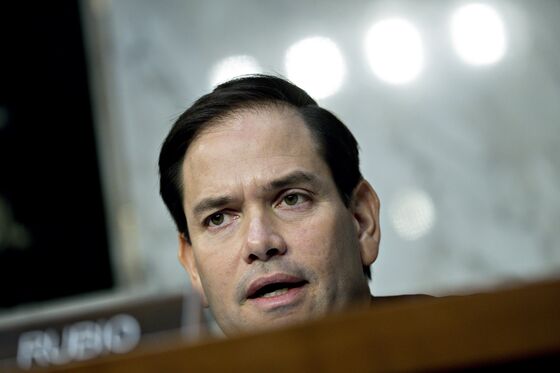 Pushing back against state privacy laws has become a top priority for the tech industry. Privacy measures are also likely to cause clashes between the internet giants, such as Google, and Democratic lawmakers, including House Energy and Commerce Committee Chairman Frank Pallone, who has signaled he shares the concerns of consumer groups seeking stronger privacy rules. The tech industry, which has no choice but to comply with Europe's tough new regulations, is concerned that California's law could become a national standard. It also worries that other states will pass incompatible statutes that could make compliance difficult.
Rubio's bill "deserves serious consideration by a lot of people," said Carl Szabo, the vice president of NetChoice, a tech trade group focused on promoting e-commerce. "It's not fair for Americans to have to worry about disparate privacy rules," added Szabo, saying that industry wants to avoid a patchwork of regulations.
Szabo stopped short of fully endorsing the Rubio measure, which the senator released Jan. 16 with no co-sponsors, saying he had unspecified concerns. Szabo's group isn't new to privacy issues, but it's too early to say whether its support of the bill will be influential. In recent years, NetChoice has been more focused on e-commerce, including internet sales taxes.
Rubio's bill is among a handful of measures that lawmakers have proposed as momentum builds for passage of a national privacy law. The push for legislation comes after repeated scandals involving data leaks and privacy breaches, which have angered lawmakers but also fueled a race by industry to find a way to override California's statute before it takes effect next year.
The California law shares some features with rules the European Union put into effect last year. It will give state residents the right to opt out of the sale of their personal information, the ability to have some of their data deleted and the right to know what has been collected on them. It also gives the state's attorney general enforcement authority.
One measure proposed by Senators Amy Klobuchar, a Minnesota Democrat, and John Kennedy, a Louisiana Republican, wouldn't tackle the patchwork problem and has the potential to complicate investigations of data breaches by mandating that users be notified within 72 hours, Szabo said.
Other industry groups are primarily focused on work by a bipartisan foursome on the Senate Commerce Committee -- Republicans Roger Wicker and Jerry Moran and Democrats Richard Blumenthal and Brian Schatz. That panel, which Wicker chairs, would likely oversee any legislative push on the issue.
The tech industry is worried that Democrats could exact punishing concessions, such as giving consumers the right to sue for violations of the law or imposing stiff fines similar to those being levied in Europe, before signing onto preemption of state laws. Last year, Democratic Senator Ron Wyden of Oregon proposed a bill that would impose fines and even prison time for executives of corporations that fail to adequately safeguard Americans' personal data.
Consumer groups have argued that Congress shouldn't gut strong state protections. Some favor a new federal data privacy agency that supplants the U.S. Federal Trade Commission, which currently enforces privacy under its consumer-protection mandate.
"Under the Rubio bill, Americans would not have their privacy protected," said Jeff Chester, executive director of the Center for Digital Democracy, who has joined the calls for a new agency. "State preemption is a non-starter as far as the consumer and privacy groups community, and their allies in Congress, are concerned."
Rubio's bill would keep the FTC as the top privacy enforcer and also task it with making privacy rules for the sprawling data businesses of the U.S. tech sector. Szabo agreed with that approach, saying that the FTC's consumer-protection role makes it a good candidate to oversee privacy, rather than the states.
"We're essentially turning to the experts to help craft a national approach for privacy in the country," Szabo said.
Although Rubio's bill may not ultimately pass, it isn't unusual for lawmakers to craft legislation because the effort can help their approach gain traction. A powerful constituency such as a business group could make a push for a particular provision, which could end up in the bill that does pass.
Lobbying on privacy by the tech sector has been split among the industry's numerous trade groups. The largest groups, the Internet Association and the Information Technology Industry Council, have backed principles including preemption of state laws. So far, most have avoided praising a specific piece of legislation, as Szabo has. He says that's a mistake, given the privacy pushes in statehouses.
"To assume that doing nothing is the right approach ignores the reality," Szabo said.