Tech-Fueled Microlenders Replace Loan Sharks as Thai Borrowing Swells
(Bloomberg) -- Thailand's household debt has spiraled to almost equal the size of its $472 billion economy, yet millions of individual borrowers still struggle to access credit. For tech-driven microfinance companies, that crunch represents a multi-billion dollar opportunity.
Lenders are offering loan approvals via smartphones and artificial intelligence within minutes for amounts as low as 2,000 baht ($60) to borrowers with no credit history. That's already sparked a 21% growth in the loans extended by the so-called nano-financiers this year, seven times the growth in conventional loans, prompting dozens of start-ups and established players to vie for a slice of the market.
While the current size of the Thai microfinance market is just under 200 billion baht, an estimated 1 trillion baht of unofficial household debt is sweetening the pot for companies entering the sector, according to Ngern Tid Lor Pcl, a microfinance lender backed by units of Mitsubishi UFJ Financial Group Inc and CVC Capital Partners. Thailand's central bank is betting on digital technology and the entry of more players to ease the credit crunch faced by millions of borrowers and save them from the exorbitant rates charged by loan sharks.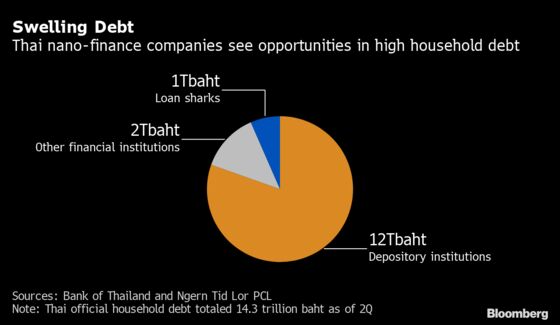 "Loan sharks are flourishing now as people with liquidity problems try to seek more money to pay debts, pay bills and put food on the table," said Piyasak Ukritnukun, managing director of Ngen Tid Lor . Microfinance "is seeing a lot of activities and new players because this segment continues to grow while others segments are stagnant."
Thailand's official household debt stood at 14.3 trillion baht at the end of June. Add to it an estimated 1 trillion baht of debt outside the official banking channels, it's close to the country's nominal gross domestic product of 15.7 trillion baht. 
Siam Commercial Bank, Thailand's biggest lender by market value, is pushing into microfinance through two units -- Monix Co. and SCB Abacus. The companies, offering nano finance service via mobile phone applications, use artificial intelligence and alternative data to target low-income and self-employed groups. 
An estimated 36 million Thais, including 28 million self-employed workers, have no access to formal bank loans and credit cards as the majority have no salary slips or credit history, according to a Monix survey. This segment, including street vendors, drivers and maids, often relies on loan sharks, paying annual interest as high as 240% to meet their finance requirements. 
Songkran Poowongkhao, a 40-year-old who works as a nanny in Bangkok, borrowed 50,000 baht from an individual lender at 20% interest per month to support her family after her husband lost his job during the Covid outbreak. She's now unable to repay the debt and the lender is threatening to tell her employer and friends if she doesn't pay up soon. 
"I don't know where to get the money," Songkran said. "People like us can't borrow money from banks as we don't have income proof. Loan sharks are the only source we can turn to during the crises."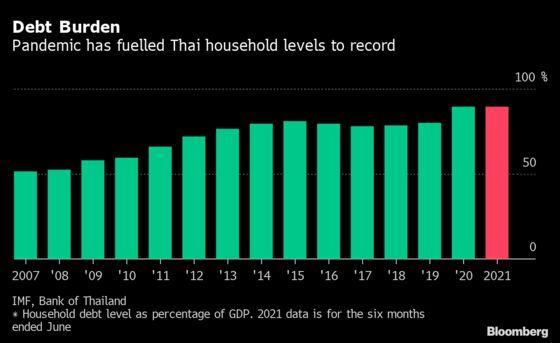 That's a pain point for the Bank of Thailand Governor Sethaput Suthiwartnarueput, despite ample liquidity in the broader financial system. High household debt can hurt private consumption and derail an economic recovery if not tackled, according to the central bank. Households lost an estimated 1.8 trillion baht of income because of the pandemic, it estimates.
The pandemic has driven digital transactions and contactless banking and nano-finance companies are benefiting from the trend too, according to Thiranun Arunwattanakul, chief operating officer of Monix. 
Still, the growth in Thai microfinance is limited by insufficient alternative data, tight controls on loan collections and an interest rate cap. The interest ceiling for nano finance is set at 33% annually, down from 36% before the pandemic. That's in contrast to some countries like Indonesia which impose no such limits.  
"The cap in interest rate also makes it difficult to lend to risky groups," Ngen Tid Lor's Piyasak said. "Having a cap is like we support loan sharks to stay in the dark and reap benefits from those unbanked group."