Teacher Strikes Boost Funding for Schools Still Hit by Recession
(Bloomberg) -- Going on strike appears to be paying off for America's teachers.
In Arizona, North Carolina, Oklahoma and West Virginia, four of the states that had cut education funding the most over the past decade, protests by teachers contributed to substantial increases in school funding last year, according to a report released Wednesday by the Center on Budget and Policy Priorities, a Washington-based non-profit that advocates against cutbacks to programs for the poor. Because of that success, more teachers in other states may follow suit, said Michael Leachman, director of state fiscal research for the group.
"It does seem likely given the success and broad public support for teachers' arguments on these issues," he said. "That has emboldened teachers to continue to press for additional improvements given the years of neglect."
The strikes were a response to deep cutbacks to spending since the recession that haven't been restored entirely by the nearly decade-long recovery. According to the study, by 2016, the latest year for which comprehensive data is available, 24 states were still spending less per student -- when adjusted for inflation -- than they were in 2008, before states and local governments felt the worst fiscal impacts of the economic downturn.
Fed up with poor pay and crowded classrooms, teachers from Chicago to Los Angeles have gone on strike in the past few months. But even with the raises some teachers got, funding in Arizona, North Carolina and Oklahoma is still less than it was a decade ago, according to the group.
"Teacher protests last year helped win sizable school funding increases, but these states still have a long way to go to return their funding to pre-recession levels," Leachman said.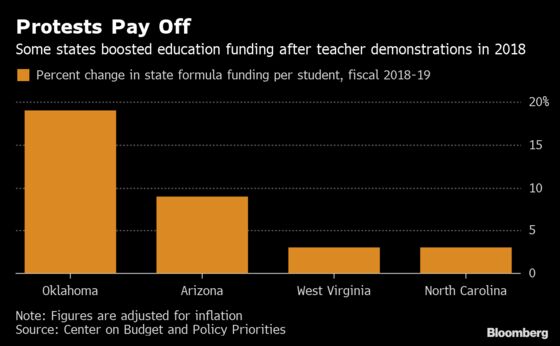 The report argues that lawmakers in Arizona, North Carolina and West Virginia used revenue sources that may be unsustainable and leave them vulnerable to backtracking. North Carolina, for example, increased funding for schools without raising new revenue, and the state now faces a budget shortfall in 2020 that could jeopardize the funds. In the Tar Heel State, formula funding on a per-student basis is still 7 percent lower in 2019 than it was in 2008, the report said.
And Oklahoma lawmakers used revenue from an increased cigarette tax to help fund pay increases. That's an unreliable source of revenue because higher taxes can drive lower consumption, reducing the amount of potential money to be collected.
The report also showed that nationally school funding has shifted even further away from states to local governments. Compared with pre-recession levels, state funding was down $166 per student by 2016 while local funding was up $161.
Leachman said this raises concerns about equal funding throughout schools in a state because the local governments get revenue from property taxes, which are higher in wealthier districts.
The report noted that there has been a sharp decline in the number of states with "progressive" state and local school funding, in which high-poverty schools receive more funding per student than low-poverty schools. In 2008, 22 states provide progressive funding, but only 11 states did in 2015, according to an analysis by the Education Law Center and the Rutgers Graduate School of Education.