Tariffs Have Cost 685 Americans Their Jobs So Far, Data Show
(Bloomberg) -- 685 and counting.
White House-imposed tariffs on everything from Chinese metals to Canadian newsprint are starting to cost Americans their livelihoods, according to data from outplacement firm Challenger, Gray & Christmas Inc.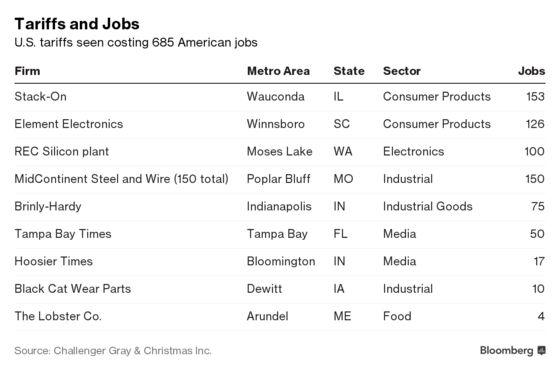 While tariffs are intended to protect some industries, like American steel, others suffer what one described as "collateral damage."
Gun safe maker Stack-On Products is relocating manufacturing to Juarez, Mexico from the Chicago area after tariffs on Chinese metals took hold, according to the Chicago Tribune. "Mr. Trump is part of this," a company representative told the newspaper.
The Tampa Bay Times newspaper announced job cuts in response to a potential $3 million annual increase in newsprint costs. "For papers already struggling to keep up in the Internet age, the impact can be devastating," the Times said in an editorial.
Metals tariffs forced Missouri's Mid Continent Nail Corp., a subsidiary of Mid-Continent Steel and Wire, to take drastic measures, according to National Public Radio. "Of course, it helps the big steel companies, but it's going to affect all the downstream manufacturing jobs," Chris Pratt, the firm's operations general manager, told NPR.