Target's Strong Quarterly Sales Offset Lack of 2021 Guidance
(Bloomberg) -- Target Corp. investors shrugged off the company's refusal to provide guidance for the current year as its fourth-quarter performance trounced expectations.
Comparable-store sales rose 20.5%, which was even better than the uptick it pre-reported for the holiday period. The highlight, as in previous periods, was its digital business, which more than doubled sales in the period ended Jan. 30 thanks to same-day fulfillment services like curbside pickup and home delivery.
The cheap-chic retailer said Tuesday that it wouldn't provide sales or earnings guidance for the current fiscal year and beyond, citing "continued uncertainty" around the pandemic. But Charlie O'Shea of Moody's Investors Service said that the lack of guidance didn't concern him. Target said it added $15 billion in sales last year, which is more than growth in the 11 previous years combined.
"If it ain't broke, don't fix it," O'Shea said in an interview, adding that Target's refusal to provide full-year guidance "was a strong statement, not a weak one, given how well they've navigated. This company has never been better positioned."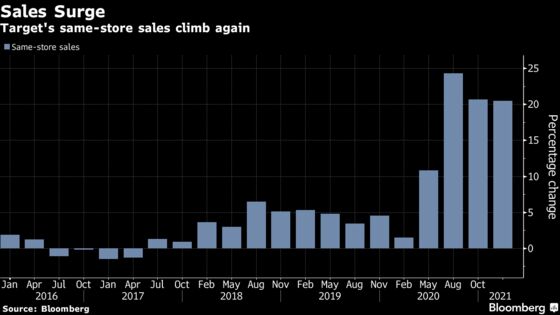 Shares rose 1.6% as of 9:38 a.m. in New York.
Target's not the only retailer to throw up its hands when it comes to predicting how 2021 will unfold: Foot Locker Inc. and Steven Madden Ltd. also declined to provide guidance for the current year. But as an industry bellwether, along with rival Walmart Inc., Target faces higher expectations from Wall Street.
Last week, Walmart disappointed investors by saying its 2021 profits would be dented by slowing sales, wage increases and supply-chain investments. Target, though, boosted its starting minimum wage to $15 an hour in July, so it has already absorbed that increase in costs.
Related: Live Blog on Retailer Earnings
Analysts expect demand to wane as the year unfolds, with consumers shifting spending to areas like dining out and long-delayed vacations. Other pandemic-inspired changes in shopping behavior, like no-contact curbside pickup of online orders, are likely to continue. After a gain of 19% last year, comparable sales are projected to decline 3.3% this year, according to Consensus Metrix.
"The million-dollar question is what their comparable sales look like when they go up against these Covid-inspired numbers," Brian Yarbrough, an analyst at Edward Jones, said by phone. "Will they be flattish for the next several years because they pulled so much business forward? How many of those new customers will stay?"
Target certainly thinks so, announcing Tuesday plans to accelerate the pace of new store openings to between 30 and 40 this year, after opening 30 in 2020. Most will be its small-format locations, which it situates in urban areas, near college campuses and in tourist enclaves like Las Vegas.